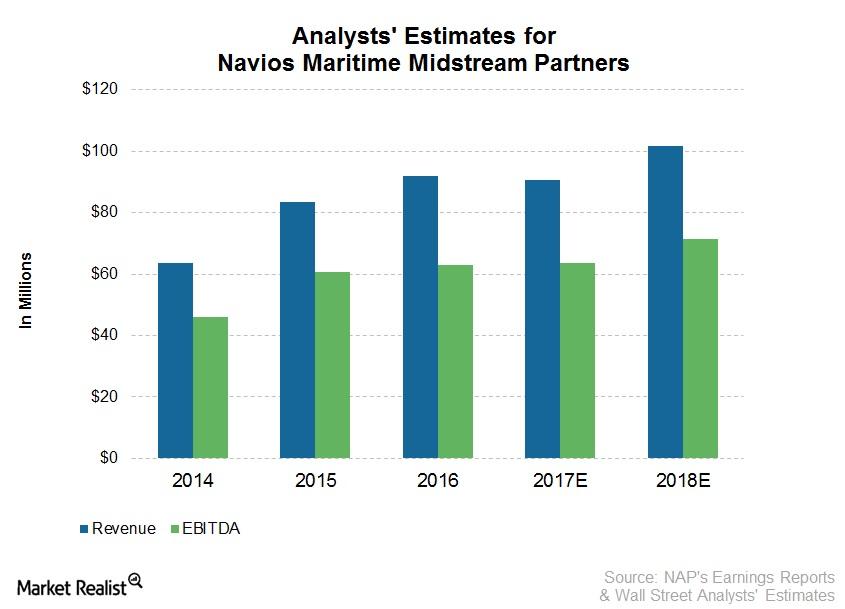 Navios Maritime Midstream Partners Declared 1Q17 Dividend
By Sue Goodridge

Apr. 27 2017, Updated 6:05 p.m. ET
Dividends
On April 24, 2017, Navios Maritime Midstream Partners (NAP) declared a cash dividend of $0.42 per unit for the first quarter of 2017. This distribution represents an annualized distribution of $1.69 per unit.

Article continues below advertisement
Revenue sources
Navios Maritime Midstream Partners derives its revenue from time-chartering its vessels. It doesn't have any vessels employed in the spot market. In contrast, peers Teekay Tankers (TNK), Tsakos Energy Navigation (TNP), DHT Holdings (DHT), and Euronav (EURN) operate in the time charter market as well as the spot market.
Revenue and earnings estimate
Wall Street analysts estimate that Navios Maritime Partners' (NAP) revenue will be ~$21.5 million in the first quarter compared with $22.8 million in 4Q16 and ~$24.2 million in 1Q16. Navios Maritime Midstream Partners will have very stable revenue in the upcoming quarters due to its time charter contracts. The company has long-term contracts, and its vessels are 100% booked in 2017 and 2018. It expects to generate $86.7 million and $86.6 million in revenues for 2017 and 2018, respectively.
Analysts expect the company's 1Q17 EBITDA (earnings before interest, tax, depreciation, and amortization) to be $15.0 million compared with $15.9 million in 4Q16 and $17.7 million in 1Q16. Analysts expect fiscal 2017 EBITDA to be $63.5 million compared with $63.5 million in 2016.
Analyst recommendations
Only five analysts cover Navios Maritime Partners. All five analysts have given a "hold" recommendation on the stock. The consensus target price for NAP is $11.50, which implies a downside of 4.8% compared to the current price of $12.08 as of April 24, 2017.