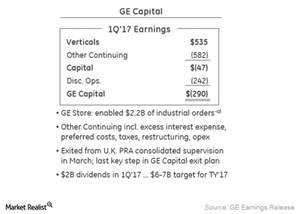 General Electric: A Snapshot of GE Capital in 1Q17
By Samuel Prince

Updated
GE Capital
By the end of 1Q17, General Electric (GE) divested most of its GE Capital business. In 1Q17, GE Capital verticals earned $535.0 million, an 8.0% rise year-over-year. However, on a reported basis, the verticals recorded a $290.0 million loss in 1Q17.
On March 30, 2017, GE announced that GE Capital's outside-US activities aren't subject to consolidated supervision by the United Kingdom's Prudential Regulation Authority. That marks the last vital step in the GE Capital exit plan.
Article continues below advertisement
Exiting from GE Capital is perhaps the boldest decision of Jeffrey Immelt, GE's CEO (chief executive officer). Had he not done so, General Electric would have remained largely a financial institution. In the last two years, GE Capital has closed deals worth $198.0 billion of ending net investment. It has almost completed the process of selling ~$200.0 billion of GE Capital's noncore businesses since the announcement in April 2015.
Will GE Capital's exit clean up GE's financials?
Shareholder equity in GE's consolidated balance sheet as of March 31, 2017, was $74.5 billion compared to $1.3 billion on December 31, 2016. The $86.8 billion of intangibles, including goodwill, translate the tangible value of equity to -$12.3 billion. That doesn't look promising, even after exiting almost all the financial verticals of GE Capital.
GE Capital acted as a cash cow for GE as far as free cash flows are concerned. With pressure building to increase dividends, GE will essentially have to depend on the industrial's cash flows, which won't be sufficient for investors' dividend needs.
Article continues below advertisement
Looking at leverage, GE has a debt-to-EBITDA (earnings before interest, tax, depreciation, and amortization) ratio of ~8.0x against the industry average of 3.8x. If we exclude the GE Capital debt, the parent's leverage is ~4.0x, which is still on the high side. It seems that GE should have used the sale proceeds of the GE Capital assets to lower its debt level, which is currently $75.0 billion. But the parent chose instead to buy back shares, which depleted its cash balance to $8.1 billion as of March 31, 2017.
ETF investment
GE is the topmost holding of the Industrial Select Sector SPDR ETF (XLI). Investors interested in indirect exposure to industrial companies can consider XLI. 3M (MMM), Boeing (BA), and Honeywell International (HON) are included in XLI's top holdings.
In the next part of this series, we'll take a look at GE's operating margins in 1Q17.