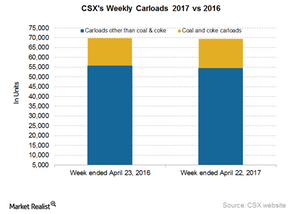 Despite a Rise in Coal, CSX's Volumes Fell in Week 16
CSX's freight volumes
In the week ended April 22, 2017, CSX Corporation's (CSX) overall railcar volumes fell ~0.6% YoY (year-over-year). That week, its freight volumes were ~69,000, compared to ~69,500 railcars in the corresponding week last year.
Its carloads, excluding coal and coke, fell 2.1% in the same week. Its rival Norfolk Southern's (NSC) carload business rose during the same period.
CSX's coal and coke railcar volumes rose 5.5% in the week ended April 22, 2017. However, NSC posted a remarkable rise of 38.0% in the same category. Coal made up 16.5% of CSX's volumes in 2016, compared to 19.5% a year ago.
Article continues below advertisement
Why is coal vital for CSX?
According to the EIA (U.S. Energy Information Administration), in 2016, coal production fell 18.0%, or 158.0 MMst (million short tons) to 739.0 MMst. That figure represents the lowest level of coal produced since 1978.
In 2017, a rise in coal-fired electricity generation is expected to lead to a 7.0% rise in total US coal production or an additional 51.0 MMst. The majority of the rise will likely come from the western and interior regions of the United States.
Eastern railroads have cited electricity generation plants' overall shift from coal to natural gas (UNG) as one of the main reasons for the fall in utility coal transportation. The shift has affected all major US coal producers, including Alliance Resource Partners (ARLP), CONSOL Energy (CNX), and the bankrupt Peabody Energy (BTU). However, recent coal price trends backed by increased coal transportation could suggest a revival.
Bull and bear commodity groups
The commodity groups that posted significant rises in the week ended April 22, 2017, were the following:
stone, clay, and glass products
crushed stone, sand, and gravel
nonmetallic minerals
pulp and paper products
chemicals
The commodity groups that posted major falls were the following:
metallic ore
primary metal products
grain
primary forest products
lumber and wood products
Next, let's take a look at CSX's intermodal volumes in the 16th week of 2017.