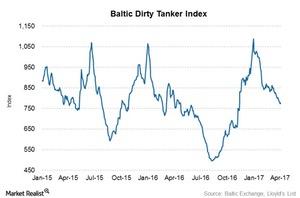 Crude Tanker Index and Stocks Fell in Week 14
BDTI
In week 14, which ended April 7, 2017, the BDTI (Baltic Dirty Tanker Index) fell from 790 to 775. It fell four out of five days during the week. The BDTI tracks shipping rates for crude oil tankers on representative routes. Researchers and analysts follow the index to assess companies' revenue and earnings potential.
Since the crude oil tanker business is seasonal, it's important to look at its year-over-year performance. In week 14, the index was higher than the previous year's level. On average, the index was 8% higher than the same period last year.
Article continues below advertisement
Stock performances
Almost all the crude tanker stocks except Tsakos Energy Navigation, which rose by just 0.21%, traded in negative territory in week 14. Below are the stock returns of crude oil tanker companies in the week ending April 7, 2017, compared to the previous week:
Shipping companies account for 19.7% of the Guggenheim Shipping ETF (SEA). SEA fell 2.0% during week 14. If you're interested in broad exposure to the industrials sector, you can invest in the SPDR Dow Jones Industrial Average ETF (DIA). To see how the crude tanker stocks performed in the previous week, read our week 13 series.
What's next in this series?
In the next part of this series, we'll see how crude oil tanker rates fared in week 14. After that, we'll take a look at the cost side of the tanker industry, bunker fuel prices. Finally, we'll see if any analysts have changed their recommendations or target prices for crude oil tanker companies and look at consensus recommendations.