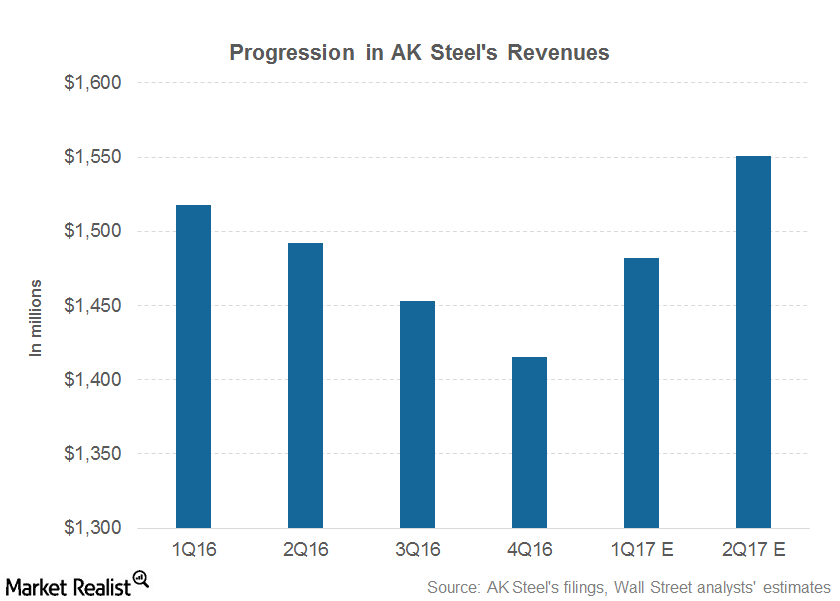 AK Steel's 1Q17 Earnings: What's the Word on Wall Street?
AK Steel's 1Q17 earnings
Previously in this series, we looked at Nucor's (NUE) and Steel Dynamics' (STLD) 1Q17 earnings estimates.
In this article, we'll see what analysts are projecting for AK Steel's (AKS) 1Q17 earnings. AK Steel is scheduled to release its 1Q17 results on April 24, 2017. Let's begin by looking at the company's revenue estimates.
Article continues below advertisement
Revenue
Steel companies' revenues are functions of commodity prices and shipments. Steel companies don't have much pricing power due to the commoditized nature of their business. However, AK Steel has been moving away from commodity-grade spot sales.
Almost 90% of AK Steel's shipments are to contract customers, and the pricing volatility for these sales tends to be lower compared to spot sales.
Furthermore, AK Steel has one of the highest average selling prices in the steel space (X) (MT), as the company's product mix is tilted toward value-added products.
1Q17 revenue estimates
Analysts polled by Thomson Reuters expect AK Steel to post revenue of $1.5 billion in 1Q17 and $1.6 billion in 2Q17. The company posted revenue of $1.4 billion in 4Q16 and $1.5 billion in 1Q16.
Remember that AK Steel's revenue fell on a sequential basis for five consecutive quarters before 1Q17. These revenue falls could be explained by AK Steel's strategy of moving away from commodity-grade steel products and positioning itself as a value-added steel player.
Along with revenue, it's important to keep track of profitability metrics. In the next article, we'll see what analysts are projecting for AK Steel's 1Q17 profitability.