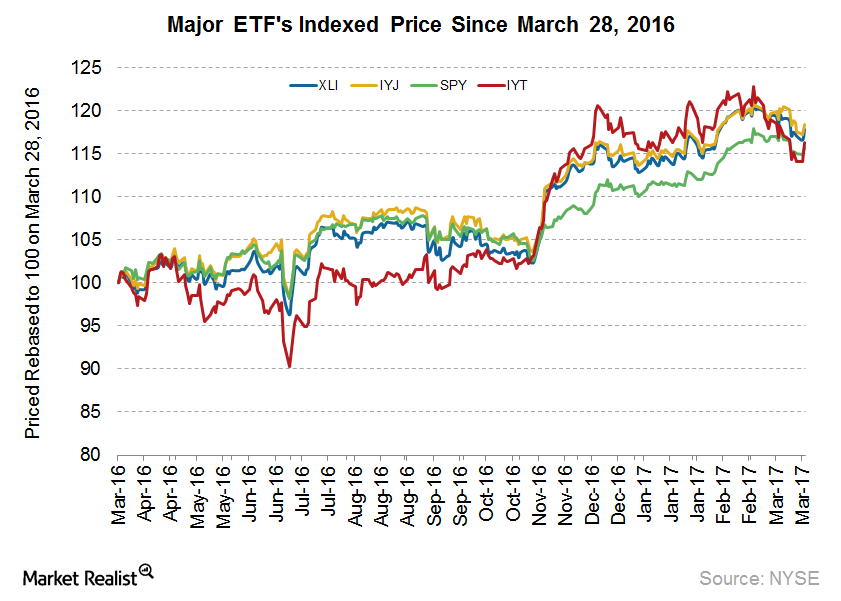 What Infrastructure Spending Cuts Mean for Freight Companies
Trump's infrastructure spending cuts
On March 26, 2017, Donald Trump proposed a 13% cut in federal funding for transportation in the 2018 budget. Ironically, the same budget proposes to boost defense spending by $52.3 billion. The budget intends to cut transportation spending by $2.4 billion from the original $18.4 billion.
The proposed spending cuts suggest eliminating funding for a host of areas like mass transit funding, rural air service, and Amtrak long-distance trains. It also entails curtailing Chicago transit upgrades. Many transportation experts believe that the proposed cuts would hurt the Chicago area a great deal. Chicago has large mass transit and freight rail networks. Congestion at freight rail (UNP) (CSX) grade crossings is very common in Chicago.
Article continues below advertisement
Transportation sector
Transportation is a subset of the industrial sector. Transportation companies, especially trucking (JBHT) companies, depend heavily on federal infrastructure spending. However, railroads (NSC) invest and build their own infrastructure of tracks without government aid.
By and large, the industrial sector performed well in the last year. The Industrial Select Sector SPDR ETF (XLI) had returned 17.8% in the past 12 months as of March 29, 2017. During the same time period, the SPDR S&P 500 (SPY), which tracks the broad market, returned 15.8%. However, it has seen various ups and downs in the last one year. Multiple macroeconomic factors have impacted its movements.
As the above graph shows, Trump's election resulted in a strong rally in the infrastructure space. However, the current proposed changes might slow down the infrastructure train.