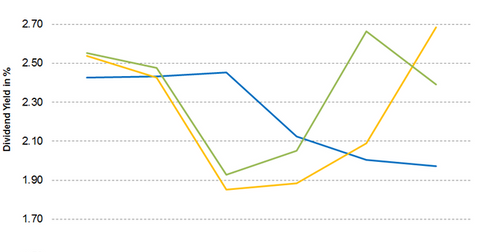 SWK's Falling Dividend Story: A Closer Read
By Peter Neil

Updated
Stanley Black & Decker's dividend yield
A dividend yield is a measure of a company's annual dividend per share relative to its price per share. It indicates how much cash an investor is getting for every dollar invested in a company's equity. A high dividend yield is thus a good sign, as it provides investors with a stable income.
On March 14, 2017, Stanley Black & Decker (SWK) stock price closed at $129.69. Now that it has declared a 1Q17 quarterly dividend of $0.58 per share, SWK's current dividend yield stands at 1.78%. SWK's peers' General Electric (GE), Honeywell (HON), and United Technologies (UTX) have current dividend yields of 3.17%, 2.09%, and 2.35%, respectively.
Article continues below advertisement
SWK's dividend yield has been on a declining trend, dropping from 2.45% in 2013 to its current yield of 1.78%. The primary driving factor behind this decline in SWK's dividend yield was the growth in its stock price, which outpaced the dividend growth. But notably, SWK's dividend yield is higher than the one-year Treasury yield and qualifies as one of the most consistent dividend-paying companies.
Dividend payout
Dividend payout can be calculated by dividing annual dividend per share by annual EPS (earnings per share) and is expressed in percentage. This tells investors what percentage of earnings the company is paying out as a dividend.
Since 2011, SWK's dividend payout has varied in the range of 34%–64%. However, the dividend payout since 2013 has been on a decline. The decline in payout is not an encouraging sign for investors, though it should also be noted that higher net income retention does leave a company with more cash for future growth and expansion.
Notably, investors can indirectly hold Stanley Black & Decker by investing in the PowerShares DWA Consumer Staples Momentum Portfolio (PSL), which had 2.1% of its holdings in SWK as on March 14, 2017.
Now let's look at latest analyst ratings.