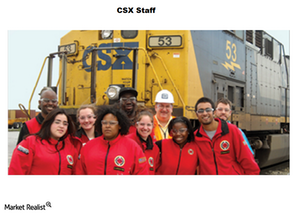 Will Hunter Harrison's Entry Be a New Dawn at CSX?
By Samuel Prince

Updated
CSX's latest announcement
Shortly after Michael Ward's announcement that he would exit CSX Corporation (CSX) in May 2017, the company reportedly announced that it would be laying off 1,000 management positions. The announcement was made on February 21, 2017.
The layoffs include positions both in the field and at the company's headquarters in Jacksonville, Florida. According to USA Today, CSX spokesman Gary Sease called the layoffs an "involuntary separation program." Jacksonville alone has over 2,500 employees in the management category. CSX is considered as one of the biggest employers in Jacksonville.
Article continues below advertisement
Hunter Harrison, railroad savior?
Much before joining Canadian Pacific (CP), Hunter Harrison was the CEO of Illinois Central, where he came up with his master plan for improving IC's efficiency. It worked, and since then, he's risen to fame as a distinguished railroader.
Harrison took charge at Canadian Pacific in 2012 at the request of activist investor William Ackman. With Harrison's measures to drive efficiency and effective asset utilization policies, CP's operating ratio has fallen substantially. In a recent quarter of 2015, CP recorded an operating ratio of 59.9%, its lowest in history. Harrison is credited with revamping CP and creating wealth for its stakeholders.
Investors should note that for CSX, compensation and benefits make up ~28% of its total operating expenses. Harrison is known in the railroad industry as a ruthless cost cutter, with most of this reduction attained through employee reduction via process integration.
What does the market think?
The market is abuzz on rumors that Harrison is set to step in as CSX's next CEO. Many market pundits even argue that Canadian Pacific, though it rose considerably during Hunter's tenure as CEO, also fell considerably in last year's roller-coaster ride for North American railroads. Some investors believe that the fall in CP's stock was much higher than it was in the pre-Harrison era.
Again, there's a buzz in the market regarding Harrison's age—72. Harrison turned down CSX's request that an independent physician designated by its board conduct a pre-hire review of Harrison's medical records.