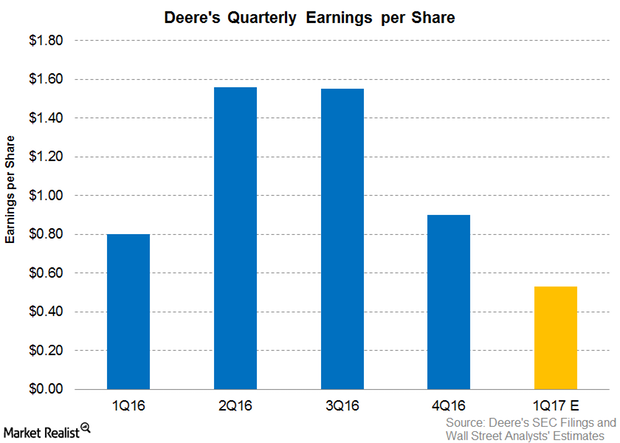 Separation Cost to Impact Deere's Earnings per Share in 1Q17
Analysts estimates on Deere's EPS in 1Q17
As of February 13, 2017, Wall Street analysts expect Deere (DE) to post EPS (earnings per share) of $0.53 in 1Q17—a decrease of 33.8% year-over-year compared to $0.80 in 1Q16. In the past three quarters, Deere beat analysts' estimates. Investors hope that the trend continues in 1Q17.
The expected decrease in Deere's EPS is mainly due to the employee separation cost that's expected to be charged in 1Q17. In 4Q16, Deere announced a voluntary employee separation program to reduce its operating costs. The program's expenses were estimated at $116 million—only $11 million was reported in its 4Q16 results. The remaining $105 million is expected to be reported in 1Q17. As a result of employee reduction, Deere expects to save $75 million in the rest of 2017. Deere also expects to save another $500 million by the end of 2018.
Article continues below advertisement
On the other hand, analysts expect SG&A (selling, general, and administrative) expenses to fall drastically. The fall could partially offset the separation costs. Analysts expect SG&A expenses to be 10.5% of the expected revenue in 1Q17—compared to 19.1% of the sales in 1Q16. The reduction could primarily be due to the decline in incentives from the employee reduction program. Deere's EPS could be boosted by its share repurchase program. In fiscal 2016, Deere spent $205 million on share repurchases. It might continue a similar strategy in fiscal 2017.
Investors can indirectly hold Deere by investing in the iShares MSCI Global Agriculture Producers ETF (VEGI). VEGI holds 8% of its portfolio in Deere. The fund's top holdings include Syngenta (SYT), Monsanto (MON), and Archer Daniels Midland (ADM). They have weights of 10.6%, 12.7%, and 6.8%, respectively, as of February 13, 2017.
In the next part, we'll analyze analysts' latest recommendations for Deere ahead of its 1Q17 earnings release.