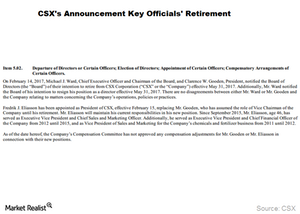 Is CSX Reluctant to Agree to Hunter Harrison's Employment Terms?
By Samuel Prince

Updated
Harrison and Mantle Ridge
In the current race to CSX Corporation's (CSX) top position, Hunter Harrison has partnered with Mantle Ridge, headed by activist investor Paul Hilal. The expression of Mantle Ridge and Harrison's interests in CSX has re-energized a nervous railroad industry.
Article continues below advertisement
Hunter Harrison's employment terms
According to a press release by CSX on February 14, 2017, the following represent Hunter Harrison's employment terms.
The aggregate value of the compensation package requested by Harrison and Mantle Ridge, including the requested reimbursement and tax indemnity, exceeds $300 million.
The company will pay $84.0 million to finance Harrison's obligation to reimburse Mantle Ridge for compensation and benefits he chose to forego at Canadian Pacific, which Mantle Ridge had previously agreed to cover, and it will assume a related tax indemnity provided by Mantle Ridge to Harrison.
Harrison will be awarded an immediate equity of 1% of CSX's outstanding shares, at least half of which will not be subject to performance measures of any kind. These shares will be worth ~$160.0 million.
The company will pay Harrison an annual base salary of $2.2 million with a target bonus of 120% of his salary. In addition to this, Harrison will receive an incentive award, "extensive benefits and severance protections," and a house in Jacksonville, Florida.
Harrison and Mantle Ridge have demanded at least six out of CSX's 14 board of directors be their nominees.
CSX's concerns  
In the press release on February 14, 2017, CSX's CEO, Michael Ward, and its president, Clarence Gooden, communicated their intentions to retire from CSX effective May 31, 2017. However, on the same day, CSX expressed major concerns regarding Harrison's proposal:
CSX's board believes that the governance requests would grant effective control of CSX to a less than 5% shareholder who would be receiving additional benefits from the company that may substantially exceed $100.0 million.
The financial costs of Harrison's and Mantle Ridge's employment-related proposals (by estimate, over $300.0 million) are huge. Plus these costs are structured as upfront payments and as equity grants payable to Harrison upon his death or disability, with only a portion of the equity grant including any performance metrics.
CSX has called for a special meeting on a record date of March 16, 2017. The company has decided to seek guidance from its shareholders regarding agreeing to Harrison's and Mantle Ridge's proposals.
ETF investment
Investors interested in transportation stocks can invest in the iShares US Industrials ETF (IYJ). Major US railroad companies such as Union Pacific (UNP), Norfolk Southern (NSC), and Kansas City Southern (KSU) are included in IYJ's portfolio holdings.
In the next article, we'll assess why the market is betting on Hunter Harrison.