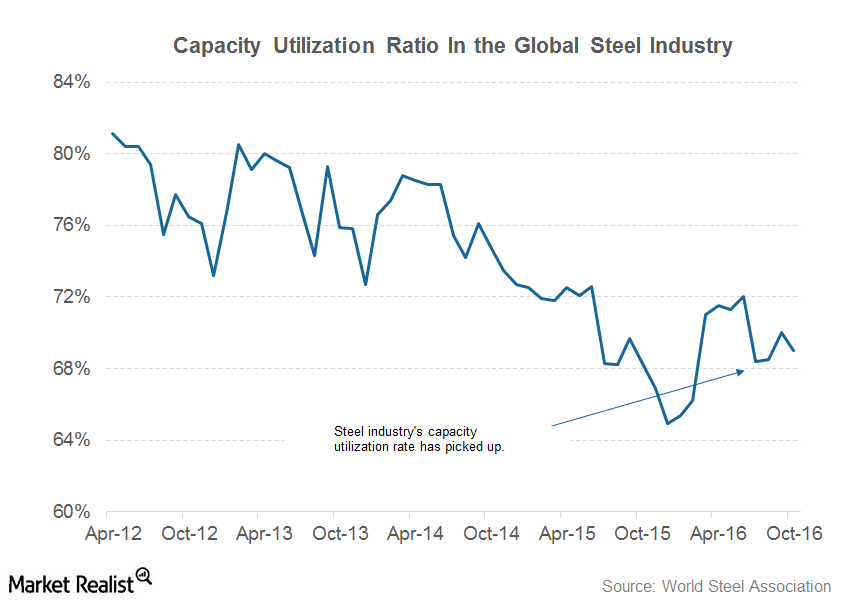 Will China Spoil US Steelmakers' Party in 2017?
By Mohit Oberoi, CFA

Jan. 12 2017, Updated 9:06 a.m. ET
US steelmakers
The key issue facing global steel markets is global overcapacity. And it's a massive overcapacity that we're talking about. Estimates put global steel excess capacity at 600 million–800 million metric tons. Generally, utilization ratios of over 80% are regarded as a healthy sign for the industry. Though the steel industry's capacity utilization ratio has picked up over the last few months, there's still quite a bit of overcapacity.
Article continues below advertisement
Chinese overcapacity
Last year, China announced plans to curtail its excess steel capacity. Despite initial apprehensions expressed by several observers, China claims that it has exceeded its capacity cut goal for 2016. The country plans to further curtail its capacity in 2017.
Notably, China's 2017 capacity cuts could be crucial for a sustainable recovery in global steel markets. According to some analysts, 2016 capacity cuts were more of a window dressing exercise, as most of the curtailed capacity was idled anyway.
Chinese imports
Steelmakers like U.S. Steel (X), ArcelorMittal (MT), and Nucor (NUE) have been up in arms against Chinese imports. After acting against direct Chinese steel imports, the U.S. Department of Commerce is now investigating transshipments of Chinese steel products from Vietnam.
The European Union has slapped anti-dumping duties on some Chinese steel products. India has extended the minimum import price for its steel products to fend off cheap Chinese steel from its borders. As outbound locations continue to dwindle for Chinese steel products, we've started to see some moderation in the country's steel exports. Falling exports and sagging domestic demand could force China to cut its excess steel capacity.
If China cuts its steel capacity, which it might have to do despite its reluctance, there could be better days ahead for the global steel industry. Now, another pertinent question for US steel investors (AKS) (STLD) is how far US steel prices can rise in 2017. We'll explore this in the next article.