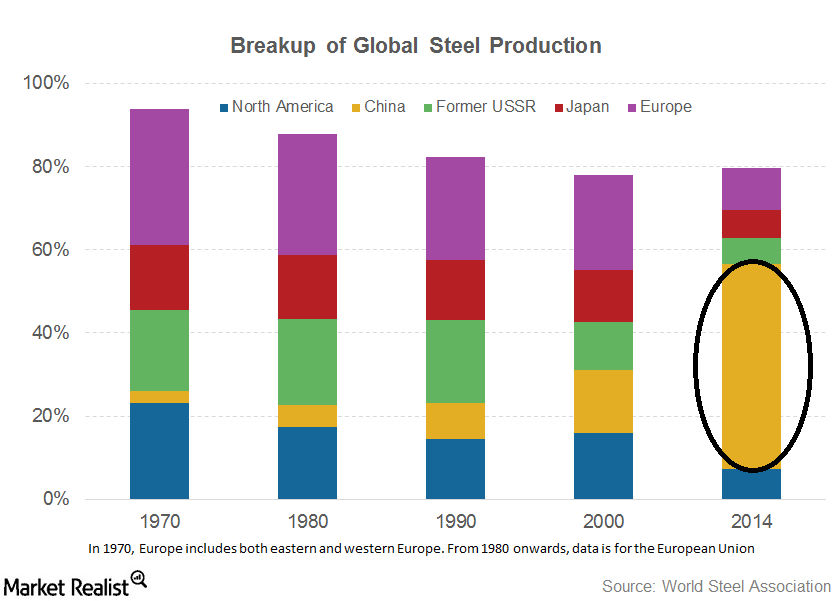 What's the Real Issue Plaguing the US Steel Industry?
By Mohit Oberoi, CFA

Nov. 20 2020, Updated 3:43 p.m. ET
US steel industry
The US steel industry (X) (AKS) (NUE) lists "unfairly traded steel products" as its biggest woe. The reason the US is the biggest steel importer is the price differential between US and international steel prices. High labor costs as compared to emerging countries coupled with stringent environmental regulations increase the cost of production for US steel mills (STLD) (MT). US steel buyers look overseas to gain access to cheap international steel. Simply put, there are plenty of suppliers in global markets that can supply steel to US buyers at competitive prices.
Article continues below advertisement
Overcapacity
The key issue facing global steel markets is global overcapacity. And it's a massive overcapacity that we're talking about. Estimates put global steel excess capacity at 600 million–800 million metric tons. Almost half of the overcapacity is estimated to be in China only. Massive overcapacity coupled with the alleged government subsidies have meant that China produces much more steel than it can consume domestically.
Chinese overcapacity
No single country dominates global steel markets like China does. This is not the first time that steel demand has peaked out in a major steel-consuming country. In the past, we saw steel demand peaking in the US as well as Japan. However, this time, the crater left by China's demand slowdown is too big to be immediately filled.
The real solution to the global steel industry's woes could lie in permanent capacity curtailments in China. Though China claims to have cut some of its excess steel capacity last year, according to some analysts, these were more of a window dressing exercise, as most of the curtailed capacity was idled anyway.
We would need more action from China on its overcapacity problem for a sustainable recovery in the global steel industry. You can read How Will the Steel Industry Fare in 2017? to explore more about the steel industry's outlook.
You can also visit our Steel page for ongoing updates on this industry.