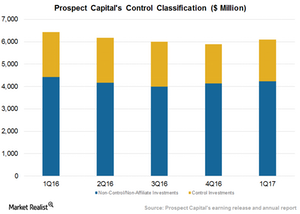 Prospect Capital Focusing on Structured, Controlled Investments
By Robert Karr

Jan. 4 2017, Updated 7:36 a.m. ET
Taking equity
Prospect Capital (PSEC) has deployed money for equity investments and a majority stake when there's an opportunity to invest in growing businesses. In fiscal 1Q17, the company's controlled investments rose to 30.6% of its total portfolio compared to 29.7% in the previous quarter.
The company targets selective monetization of holdings when it has found attractive pricing and invests proceeds into controlled investments and non-controlled investments, including first-lien and structured notes.
Article continues below advertisement
Prospect Capital continues to invest and generate loans through online lending. In the September quarter, the company saw 20.0% of its total originations through an online platform. Prospect's total business through its online platform currently stands at $577.0 million across securitization interests, loans, and underwriting platforms.
The company's online business currently delivers an expected leveraged yield of 14.0% in fiscal 1Q17, which is lower than 15.0% in the previous quarter. Below are the rises in EPS (earnings per share) for its investment management competitors:
Together, these companies make up 13.5% of the ProShares Global Listed Private Equity (PEX).
Structured credit
Prospect Capital has investments in 40 structured credit investments as of September 30, 2016. These investments carried a fair value of just more than $1.0 billion with a downside capped at the net investment amount. The structured credit portfolio consisted of more than 2,900 loans, with total assets of more than $19.6 billion. The portfolio had a default rate of ~1.4% over the past year, lower by 56 basis points than the broadly syndicated market rate of ~2.0%.
In the September quarter, Prospect's structured credit portfolio generated an annualized cash yield of 26.1%. The portfolio has generated cumulative cash distributions of $758.9 million, forming approximately 58.1% of the original investment. Prospect has exited seven structured credit investments for a total of $153.6 million, with an average internal rate of return of 16.8% and a cash-on-cash multiple of 1.42x.
In the next part of the series, we'll look at Prospect Capital's leverage and balance sheet strength.