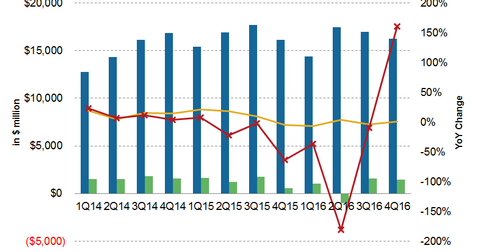 Boeing Commercial Airplane Deliveries to Rise, Revenues to Follow
By Ally Schmidt

Updated
Fiscal 2017 guidance
In fiscal 2016, Boeing (BA) delivered 748 aircraft, which is 1.8% lower than the 762 aircraft it delivered in 2015 and helps explain the company's revenue decline. However, for 2017, Boeing expects aircraft deliveries to improve to 760–765 aircraft.
Article continues below advertisement
Delivery mix to deteriorate
The above decline was also due to a deteriorating delivery mix. For 2017, Boeing has planned to cut production of its 777 by 40% and to begin transitioning to its new 777X. This means the delivery target will be achieved by the smaller and cheaper 737 and 737 Max, thus impacting Boeing's revenues.
Boeing has managed to secure more than 3,300 orders for the 737 Max since its launch. This should keep it on track to increase its 737 production to 47 per month, starting in 3Q17. These orders and the increased deliveries of the Boeing 787 provide a favorable mix that should help increase Boeing's profitability and free cash flow generation going forward.
Dreamliner to get more profitable
In December, Boeing delivered its 500th Dreamliner aircraft. As the company ramps up production, it's important that the Dreamliner becomes more profitable. Even after Boeing managed to improve the Dreamliner's profitability by $1.4 billion in 2016, the production losses remain at a humongous level of $27.3 billion.
Article continues below advertisement
Increased delivery guidance
Boeing has a commercial airplane backlog of 5,600 aircraft valued at $409 billion. For 2016, BA has increased its delivery guidance to 745–750 jets from the 740–745 deliveries previously planned. Its revenue guidance has thus been increased to $64.5 billion–$65.5 billion from the $64 billion–65 billion given after 2Q16.
Margin expansion
The expected earnings growth for 2017 is expected to come from Boeing's Commercial Airplane segment. Operating margins for the segment are expected to improve from 4.8% in 2016 to 9.5%–10% in 2017. The absence of one-time charges will make this possible.
Boeing makes up ~9.4% of the iShares US Aerospace & Defense ETF (ITA). ITA has 9% in United Technologies (UTX), ~7.9% in Lockheed Martin (LMT), 6.5% in General Dynamics (GD), and 6.5% in Raytheon (RTN).
Now let's look at what we can expect from Boeing's Defense, Space, and Security segment.