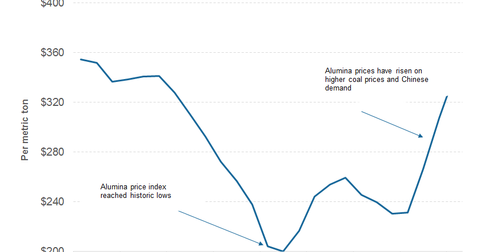 Alcoa's 2017 Outlook: Management's Insights from 4Q16 Call
By Mohit Oberoi, CFA

Jan. 26 2017, Updated 7:37 a.m. ET
Alcoa's 2017 outlook
For commodity companies like Rio Tinto (RIO) and Century Aluminum (CENX), the industry outlook is as important or more important than the company's position in the industry. In this part, we'll discuss the industry outlook shared by Alcoa's management during the company's 4Q16 earnings call. We'll also look at the company's 2017 guidance. We'll be able to gauge Alcoa's 2017 outlook.
Article continues below advertisement
Industry outlook
Alcoa (AA) (ARNC) expects global aluminum markets to be in a surplus in 2017. You can define a "surplus" as production in excess of demand. Markets are said to be in a "deficit" when demand exceeds production. Notably, global aluminum markets were expected to be in a deficit in 2016 after almost a decade of surplus.
Alcoa expects China's aluminum surplus to be between 2.1 million metric tons and 2.3 million metric tons. World ex-China is expected to be in a deficit of 1.5 million metric tons to 1.7 million metric tons resulting in a global surplus between 0.4 million metric tons and 0.8 million metric tons in 2017. However, Alcoa expects largely balanced markets in bauxite and alumina (NHYDY).
Earnings guidance
Alcoa expects to generate an adjusted EBITDA between $2.1 billion and $2.3 billion in fiscal 2017. The guidance assumes current foreign currency exchange rates and physical aluminum premiums. In arriving at this guidance, Alcoa assumed aluminum prices at $1,795 per metric ton and API (alumina price index) at $355 per metric ton. However, it's important to note that Alcoa's earnings, like other commodity producers, are sensitive to underlying commodity prices. The company's actual 2017 earnings would depend on the movement in aluminum and API prices.
In the next part of this series, we'll look at the other key takeaways from Alcoa's 4Q16 earnings call.