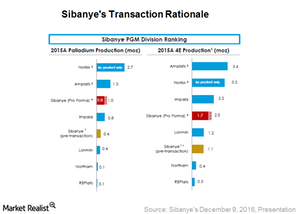 What Will Sibanye Achieve through the Stillwater Deal?
By Anuradha Garg

Updated
Attractive mining jurisdiction
In this part of the series, we'll take a look at the rationale for Sibanye Gold's (SBGL) acquisition of Stillwater Mining (SWC).
The United States is considered a very safe and attractive mining jurisdiction. Stillwater Mining's (SWC) assets are located in the United States. It has a lower geopolitical mining risk than South African PGM (platinum-group metals) producers.
The South African PGM and mining industries as a whole are mired in the wage negotiations phase. Wages are increasing more than inflation, which is rampant in the country. South African miners are also grappling with declining productivity at their operations, which has started hurting their EBITDA (earnings before interest, tax, depreciation, and amortization) margins.
These country-specific risks make stocks of companies such as Anglo American Platinum (ANGPY), Impala Platinum (IMPUY), Aquarius Platinum (AQPTY), and Norilsk Nickel (NILSY) more volatile.
The Sibanye Gold–Stillwater Mining acquisition will thus position Sibanye as a globally competitive South African miner. It will add low-cost, high-quality, high-grade PGM mines to Sibanye's portfolio.
Article continues below advertisement
Potential upside
As we've already seen in the previous part of this series, the acquisition will add a significant long-term production upside from Blitz as well as recycling capabilities through the Columbus metallurgical complex.
Sibanye also believes that this complex will help it create a mine-to-market PGM (PALL) (PPLT) business. That will, in turn, provide the company with a steady margin and strategic insights into the market.
Value accretion
Sibanye Gold also believes that the acquisition is value accretive. Making the case for this, Sibanye's CEO (chief executive officer) Neal Froneman said during the December 9, 2016, conference call, "On day 1 we believe it's value accretive on a net asset value. This asset does generate cash; it does cover its own capital. And as Blitz ramps up this will be strongly cash-flow positive and will, in fact, contribute in a few years' time to our cash flow per share."
Also during the conference call, Froneman said that in the last 12 months, the company's dividend yield has been 6.2%. The average over the last four years is 5.2%. He said, "We have planned this transaction in such a way that we retain our dividend policy and our commitment to actually achieving these yields."