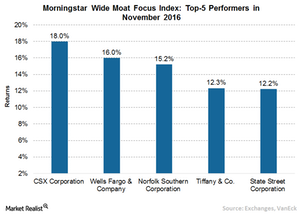 November Winners: Wide Moat Rated Banks and Railroad Stocks
By VanEck

Dec. 20 2016, Updated 1:42 p.m. ET
VanEck
U.S. Domestic Moats: Trump Bumps↑ and Slumps↓
The U.S. elections impacted markets broadly, and generally gave a boost to U.S. equities while creating headwinds for global fixed income markets. The Trump victory benefited specific U.S. industries and sectors, including financials and infrastructure, and this was reflected by the U.S. Moat Index's top performers for the month. Wide moat rated banks such as Wells Fargo & Co (WFC US, +15.98%) and State Street Corporation (STT US, +12.23%) were among the strongest performers in the U.S. Moat Index in November. Railroad companies CSX Corp. (CSX US, +17.98%) and Norfolk Southern Corp. (NSC US, +15.21%) were also standouts. Both companies jumped the day after the election and continued to rise in the weeks following; Morningstar equity analysts raised their fair value for NSC US at the end of the month.
Article continues below advertisement
Market Realist
US domestic moat companies were the winners
The dawn of a Trump era in the United States has drastically changed the fortunes of domestic stock markets—unlike adverse predictions from many experts prior to the election. The markets believe Trump's fiscal policies will benefit stocks. Trump's plan to increase spending on government projects like infrastructure is expected to boost inflation and create new job opportunities. Investors also believed cuts in personal income taxes would boost consumer spending while the reduction in the corporate tax rate leads to rising employment and rapid economic growth—both of which would positively influence stock markets.
Moat rated banks
Banking stocks have seen a sharp rally on expectations of easing regulations and big opportunities from the expected increase in infrastructure spending. As interest rates are expected to rise with inflation, banks are likely to see margin expansion due to higher lending rates. Though most bank stocks surged in November, wide moat (MOAT) (MOTI) rated banks like Wells Fargo (WFC) and State Street Corporation (STT) were among the highest gainers.
Railroads surged
After Donald Trump's victory, wide moat rated railroad stocks also rallied on the hope of big opportunities due to enhanced infrastructure spending. CSX has seen upward movement for quite some time due to buoyant earnings and volume outlooks for the last quarter. Another moat stock, Norfolk Southern (NSC), has performed well since its third quarter results. NSC aims to reduce operating costs and improve margins by 2020, which also boosted its stock price.