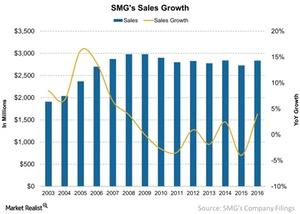 Scotts Miracle-Gro's Sales Focus on Two Regions
By Adam Jones

Dec. 29 2016, Published 6:06 p.m. ET
SMG's sales
The majority of The Scotts Miracle-Gro Company's (SMG) sales come from the US market. The company's Scotts, Miracle-Gro, and Ortho brands command more than half of the market share in the United States. The company also claims that the brand awareness level of these three brands stands at over 80%. Let's look at how the company's sales have evolved over the years.
Article continues below advertisement
SMG's sales
Scotts Miracle-Gro's sales have averaged ~4% over the past 14 years, which was about the same growth seen in 2016. The company's sales are seasonal, with most sales from late winter through spring, or the company's second and third fiscal quarters.
Reporting segments
While the company's sales growth has averaged 4% over the years, its share from North America has risen from 84% in 2009 to 82% in 2016. While the United States continues to be a significant market, its declining share as a percentage of total sales hints at a growing focus on international markets. This focus was evident in the company's recent segment structure change.
Scotts Miracle-Gro underwent a change in its organizational structure, which led to a change in reporting to its US Consumer, Europe Consumer, and Other segments. Prior to this, the company reported under Global Consumer, Scotts LawnService, and Corporate & Other. Distinguishing the US (SOIL) and Europe consumer segments indicates the company's new focus.
Bear in mind that Central Garden & Pet (CENT), Spectrum Brands (SPB), and Seaboard (SEB) are also present in some of these markets. Read on to learn what's driving the company's sales.