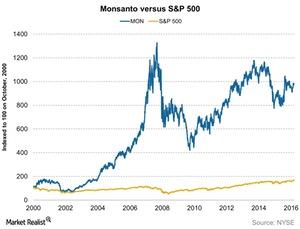 Monsanto Company: A 2016 Review
By Adam Jones

Dec. 30 2016, Published 1:28 p.m. ET
Monsanto's stock performance
Monsanto Company (MON) is everywhere in our day-to-day lives, from the food we eat to the gas we use in the cars we drive. Headquartered in Saint Louis, Missouri, the company has a market capitalization of $46 billion and serves the agricultural sector (VEGI) along with companies such as Dow Chemical (DOW), FMC (FMC), DuPont (DD), and Syngenta (SYT).
So far in 2016, Monsanto has returned 6.8%, failing to beat the S&P 500's current return of 10.1%. However, over its life, Monsanto has easily beaten the S&P 500. Let's take a look.
Article continues below advertisement
Monsanto's listing
Monsanto was listed on the NYSE on October 18, 2000, and it opened at $10 per share. Since then, the company's stock has soared to $105 per share, translating to a compound annual return of 15.3% over the 16-year period. Compare this to the S&P 500, which has returned just 3.3% on a compounded annual basis over the same period of time.
Over the years, Monsanto has undertaken several groundbreaking innovations in the agriculture business. More recently, it announced a merger with Bayer.
Series overview
In this series, we'll do an overview of Monsanto. We'll look at how the company began and how it's evolved over the years to suit the demands of the market. We'll also analyze the company's sales drivers and cost structure. Later, we'll compare its fundamentals with those of its closest peers.
Let's begin with the history of Monsanto, which dates back to 1901.