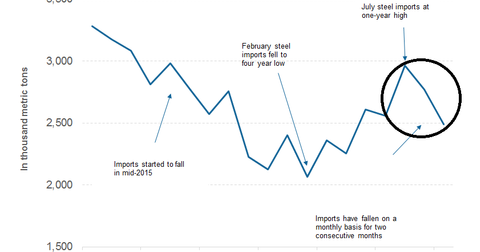 Would Donald Trump Turn the US Steel Industry into an Island Again?
By Mohit Oberoi, CFA

Updated
Trump and trade
Donald Trump appears to favor a more aggressive trade policy, regularly citing job losses as a result of imports from countries, especially China. But even more specifically, Donald Trump's stance on imports has resonated with US steel companies.
Nucor's (NUE) former Chief Executive Officer, Dan DiMicco, is among Trump's economic advisors. Steel companies including U.S. Steel (X), ArcelorMittal (MT), and AK Steel (AKS) frequently list "unfairly traded steel products" as the biggest challenge for the US steel industry (XME).
Article continues below advertisement
But both candidates support steel industry
Hillary Clinton has also voiced her support for the steel industry. In one of her recent speeches, Clinton said, "Steel is crucial to our manufacturing base, crucial to our national security, and I will not let this vital industry disappear."
The consensus seems to be that Clinton's economic policies would be an extension of current economic policies—unlike Trump, who has declared himself to be an "anti-establishment" candidate with new policy ideas.
Can Trump stem imports?
But can Trump bring down steel imports amid fears of retaliation from US trading partners? We should also remember that some of the trade actions that the US imposed on steel imports have been challenged in the WTO (World Trade Organization).
Another aspect to consider would be the impact of trade duties on end users. Earlier this year, US flat rolled steel prices jumped more than 70% after trade duties were imposed on imports from countries including China and Korea. The US steel industry turned into a virtual island, and import supply lines were blocked as a result of trade cases.
We should also note that Trump has used imported steel in his buildings to take advantage of lower international steel prices. And any clampdown on steel imports—however positive for the domestic steel industry—would negatively impact end steel users.
In the next and final article, we'll explore the long-term impact of Trump's economic policy.