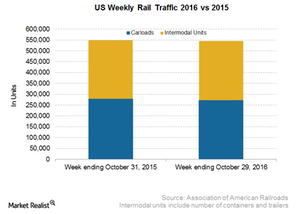 Will US Freight Rail Traffic See Light at the End of the Tunnel?
By Samuel Prince

Nov. 20 2020, Updated 1:57 p.m. ET
US freight rail traffic
Each week, the Association of American Railroads publishes the previous week's North American freight rail data. The latest data are for the week ended October 29, 2016. During the week, total US rail traffic (UNP) fell 0.8% to 545,000 units from over 549,000 units in the week ended October 24, 2015.
If you want to compare this week's freight volume data with the previous week's, read Investor Insight into Freight Rail Traffic for Week Ended October 22.
Last week, US carloads fell 2.8% to ~272,000 railcars, compared to over 279,000 railcars in the corresponding week last year. However, intermodal volumes rose 1.3% to over 273,000 units, compared to ~270,000 units in the same period last year.
Article continues below advertisement
What the AAR said
The AAR's senior vice president of Policy and Economics, John T. Gray, said, "Railroads continue to face a difficult macroeconomic environment that's negatively impacting their traffic volume. Grain is doing well and autos are hanging on, but many other commodity categories that depend on a vibrant industrial sector — things like steel, petroleum products, and crushed stone — are not doing as well as railroads would like."
Canadian and Mexican rail traffic
In the latest reported week, Canadian rail traffic (CNI) rose 4.9%. However, Canadian intermodal traffic fell a marginal 3.8% in the week. Mexican railroad (KSU) carloads rose 6.8% in the week, and Mexican intermodal traffic rose 7.2%.
Investors interested in dividends ETFs can opt for the Vanguard Dividend Appreciation ETF (VIG). All US Class I railroad companies (NSC) make up part of the portfolio holdings of VIG.
For more information on major US railroad stocks, visit Market Realist's Railroads page.
In this series, we'll take a look at Class I railroad companies' total volumes for the week ended October 29, 2016.