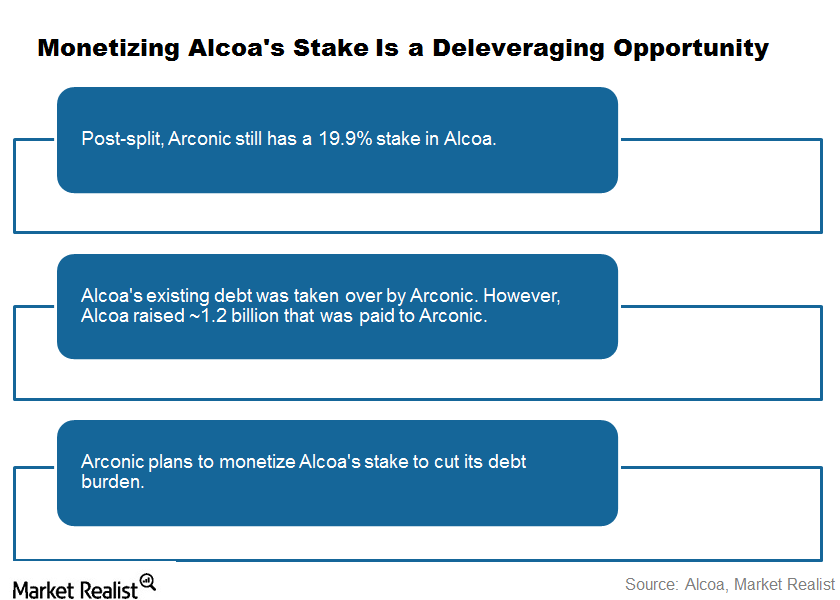 Why Arconic Investors Can Find Solace in Alcoa's Gains
By Mohit Oberoi, CFA

Nov. 20 2020, Updated 3:22 p.m. ET
Alcoa's gains
As discussed previously, while Alcoa (AA) has seen upward price action following its split, Arconic (ARNC) has sagged. However, Arconic's investors can still find some solace in Alcoa's gains. Let's discuss this in perspective.
Article continues below advertisement
Stake monetization
After the split, Arconic still holds a ~20% stake in Alcoa. Arconic plans to monetize this stake in 18 months. However, the company has retained the option to hold Alcoa's stake for up to five years. During the company's investor event held last month, Ken Giacobbe, Arconic's chief financial officer, said that the company had "voluntarily agreed to a 60-day lock-up period post separation."
Currently, Arconic's stake in Alcoa is valued in excess of $1 billion. This value could change depending on the day-to-day movements in Alcoa's stock price. Monetizing Alcoa's stake could be a deleveraging opportunity for Arconic. Notably, higher leverage ratios have been a concern of Arconic's investors. Note that the debt burden of the consolidated company was taken on entirely by Arconic. On its part, Alcoa raised ~$1.2 billion that was transferred to Arconic.
What's next?
Aluminum's gains look much more fundamental compared to the sudden spike in some other metals. Aluminum should be able to sustain most its recent gains, unless we see a sudden surge in Chinese aluminum exports. Higher aluminum prices should benefit primary producers (XME), including Rio Tinto (RIO) and Century Aluminum (CENX).
Meanwhile, Alcoa and Arconic investors are still left wondering whether the company's split has added value for them. You can read Has Alcoa's Split Lived Up to the Hype? to learn more about this.
You can also visit Market Realist's Aluminum page for ongoing updates on the industry.