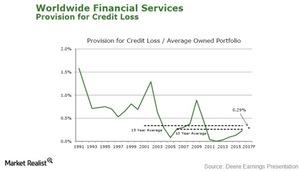 Deere's Financial Unit Continues to Bleed from Used Equipment
By Shannon Black

Nov. 28 2016, Updated 8:05 a.m. ET
Deere Financial Services' performance in 4Q16
Deere (DE) Financial Services represented 11.5% of the company's revenues in 4Q16, which is higher than 9.7% in 4Q15. However, net income from the segment attributable to Deere fell 27.0% to $164.0 million due to lower net interest margins and higher credit loss provisions in the quarter.
As prices of used equipment fell to record lows, the company suffered losses from lower residual values of used equipment. As a result, Financial Services' operating margins fell from 34.5% in 4Q15 to 22.1% in 4Q16.
Deere's annualized provision for credit losses is expected to rise to 29 basis points, which is higher than the ten-year average of 26 basis points. Deere's competitors such as CNH Industrials (CNHI) and Caterpillar (CAT) have also reported lower margins lately due to lower net interest margins.
Article continues below advertisement
Why Deere's credit losses rose
In our company overview of Deere & Company, we saw that in a depressed agriculture (DBA) economy, farmers were increasingly opting to rent equipment rather than purchase it in order to cut back on excess capital tied up in equipment purchases. With an eye on tapping these trends, Deere increased its rental offerings in earlier quarters with leases accounting for an estimated 25.0% of customer-financing deals compared to the historical figure of 15.0%.
However, this decision backfired, and customers walked away from short-term leases. The consequence was that dealers were burdened with used equipment, which had rapidly depreciated in value. In light of these circumstances, the company stated in the second quarter that it would severely restrict short-term leasing activity. In the fourth quarter, Deere said it has probably seen higher return rates. It added that it has already included these factors in its guidance.