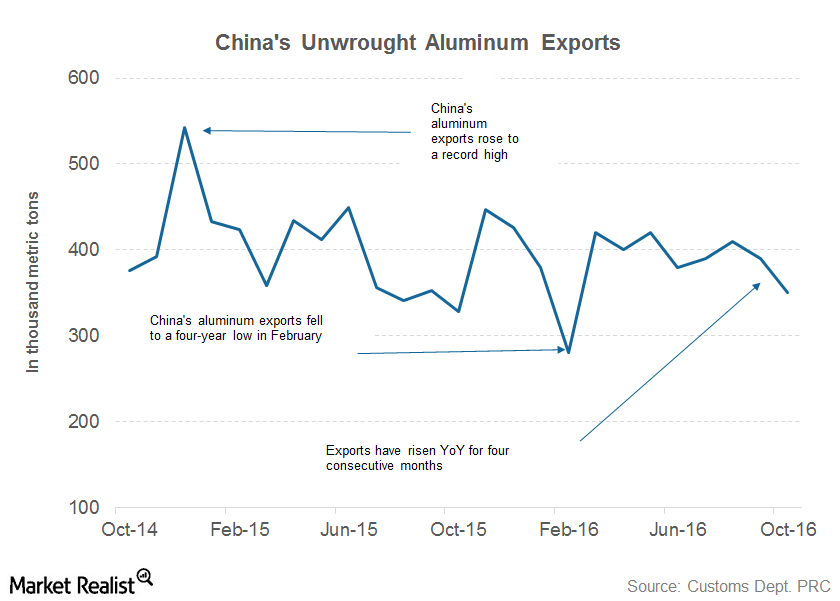 Can Higher Chinese Aluminum Exports Spoil Alcoa's Party?
Lower Chinese aluminum exports
Article continues below advertisement
Exports fall on a monthly basis
China exported 350,000 metric tons of unwrought aluminum in October. It represents a monthly fall of more than 10%. Chinese aluminum exports fell ~1.8% YoY (year-over-year) in the first ten months of 2016. However, it's important to note that although China's aluminum exports fell on a monthly basis in October, we saw YoY increases for four consecutive months. If the uptrend continues in China's aluminum exports (ACH), the country could end up exporting more aluminum this year than last year.
Alcoa's party
When the split was announced last year, Arconic was supposed to be the crown jewel that would help drive value for shareholders after it was listed as a separate entity. The commodity business was expected to sag in what looked like a prolonged slowdown in metal prices. After the split, Alcoa saw an upward price action, while Arconic (ARNC) saw selling pressure. Alcoa's upward price action has been supported by higher aluminum prices (DBC).
Lower Chinese aluminum exports have been among the key drivers of aluminum prices this year. If the uptrend in China's aluminum exports continues, it could dent aluminum prices and spoil Alcoa's post-split party.
Read Trump or Clinton: Whose Economic Policies Could Boost Alcoa? to find out how the stock could play out after the election results.
In the next part, we'll look at China's October copper imports.