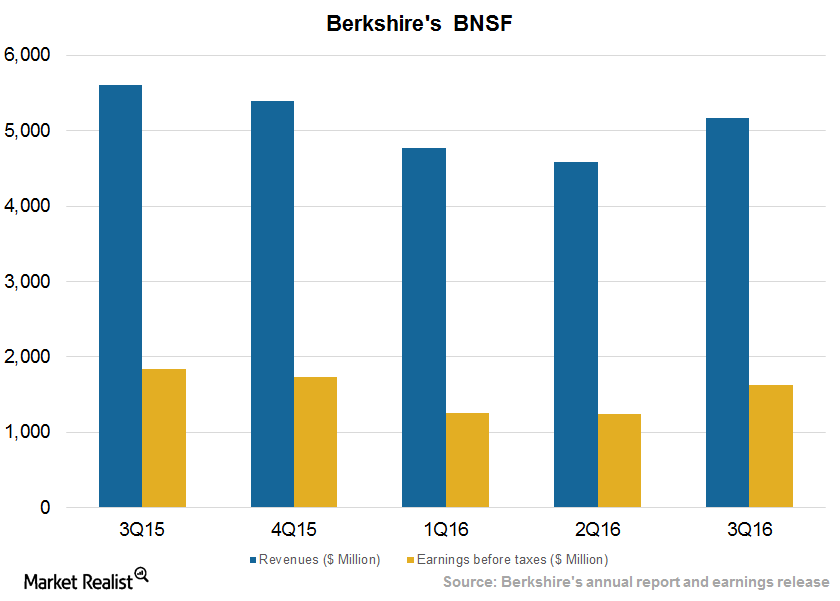 Berkshire's BNSF Falls on Petroleum and Coal in 3Q16
By Robert Karr

Nov. 9 2016, Updated 8:05 a.m. ET
Weak performance
In 3Q16, Berkshire Hathaway's (BRK-B) railroad revenues fell to $5.2 billion compared to $5.6 billion in the prior-year quarter mainly due to lower volumes in coal and petroleum products. The BNSF division reported $1.0 billion in net income for 3Q16, which is below the $1.2 billion it saw in 3Q15.
In the first nine months of 2016, revenues reflected comparative declines in average revenue per car unit of 6.5% and in volumes of 6.6%. The decline in average revenue was mainly due to lower fuel surcharge driven by lower oil prices and business mix changes.
Berkshire owns and operates BNSF railroads, one of the largest in North America. BNSF has approximately 33,000 miles of track in 28 US states and three Canadian provinces.
Berkshire purchased the railroad giant's remaining stake of 77.4% for $26 billion in 2009. BNSF competes mainly with Union Pacific (UNP) in the Western US, where the former has an approximate market share of 49%.
The railroad giant also competes with most other major railroad players. Its competitors reported the following revenue rises:
Together, these companies make up 7.2% of the Industrial Select Sector SPDR ETF (XLI).
Article continues below advertisement
Coal, petroleum, consumer products
BNSF's freight from consumer products was $1.7 billion, down by 3.4% on lower volume. Industrial products also saw a decline of 15.2% in revenues to $1.2 billion on lower petroleum products partially offset by increased plastics products.
Freight for agriculture products rose 7.8% in 3Q16 to $1.1 billion mainly due to a volume increase of 13.2%. Coal freight revenues fell 18.5% to $1.0 billion as natural gas is steadily replacing coal for electricity production.
In the next part, we'll study Berkshire's Energy business performance in 3Q16.