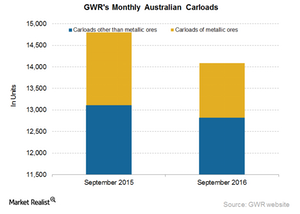 Why Genesee & Wyoming's Australian Carloads Fell in September
By Samuel Prince

Dec. 4 2020, Updated 10:52 a.m. ET
Genesee & Wyoming's Australian carloads
Genesee & Wyoming's (GWR) Australian carloads fell 4.8% in September 2016. In the comparable period in 2015, GWR hauled ~15,000 railcars, compared to over 14,000 in September 2016.
The most noteworthy aspect of GWR's September 2016 Australian carloads was the huge 25% reduction in its metallic ore carloads. The closure of a manganese mine in 2015 led the fall in its volumes. Carloads other than metallic ore fell 2.2% in September 2016 on a year-over-year basis.
Article continues below advertisement
Rising and falling commodity groups
The fall in Australian carloads in September 2016 was primarily due to the fall in agricultural product and petroleum product carloads. Agricultural product volumes fell 5.6% in September 2016. Low global crop prices plus shipping disruptions due to localized flooding resulted in lower overall carloads.
Petroleum product carloads fell 3.4% in September 2016 on a year-over-year basis. Except for minerals and stone, not a single commodity group in GWR's Australian operations posted a rise in September 2016.
For Genesee & Wyoming, the term "carload" represents physical railcars and the estimated railcar equivalents of the commodities for which the company is paid. Genesee & Wyoming is often compared to Class I railroad companies because its operations span 75% of the United States, parts of Canada, Australia, and some parts of Europe. 
Other US-based Class I rail carriers include Norfolk Southern (NSC), CSX Corporation (CSX), Kansas City Southern (KSU), and Union Pacific (UNP).
You can compare this week's rail data to the previous week's by reading How Freight Rail Traffic Stacked Up in the Week Ended October 1.
In this series, we've examined the rail traffic data of major US railroads (XTN) for the 40th week of 2016. Keep visiting Market Realist's Railroads page for more information on major US railroads.