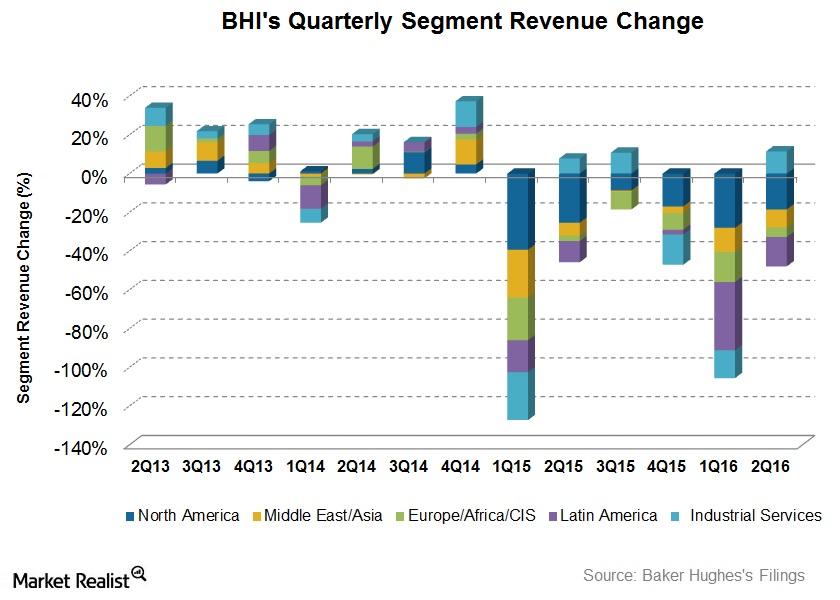 Baker Hughes's Revenue Growth Depends on These Value Drivers
Baker Hughes's revenue growth
Between 2Q15 to 2Q16, all of Baker Hughes's (BHI) segments saw lower revenues. Its North America operations suffered the highest revenue decline with a 55% fall, while the Industrial Services segment was the most resilient with an ~11% fall. By comparison, McDermott International (MDR) saw a 32.5% revenue drop in 2Q16 over 2Q15.
Article continues below advertisement
Baker Hughes's operating income
Adjusted operating income wise, BHI's North America segment operating loss deteriorated in 2Q16 over a year ago. BHI's Europe/Africa/Russia Caspian operation was severely affected, switching to an adjusted operating loss in 2Q16 from an operating income a year ago. Even the Middle East/Asia operation and the Industrial Services segment turned to adjusted operating losses in 2Q16. Adjusted operating income excludes merger-related costs. Read more about Baker Hughes in Market Realist's Baker Hughes's Moving Averages Show It Has More Room to Run.
Baker Hughes's value drivers
Although US rig count is still lower compared to a year earlier, it has started to move up. A higher rig count could benefit BHI's revenues and earnings in 3Q16.
Activity reductions in offshore Mexico and reduced revenue from Ecuador had a negative impact on the company.
Reduced activity, pricing pressure, and an unfavorable product and geographic mix affected BHI's North Africa, Nigeria, United Kingdom, and Angola regions negatively.
A steep rig count fall in Australia affected BHI's Asia-Pacific region operations negatively.
However, cost-saving from restructuring activities and the favorable impact of foreign exchange rate movement in many of BHI's' international operations partially mitigated these negative factors. Baker Hughes makes up 0.12% of the iShares Core S&P 500 ETF (IVV). The energy sector makes up 7.4% of IVV.
Next, we'll discuss how BHI's management outlook transpired in the past quarters.