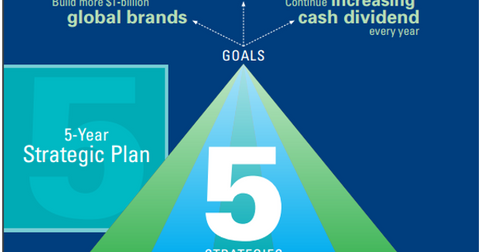 Understanding RPM International's Vision for 2020
By Peter Neil

Updated
RPM International's 2020 vision
In 2015, RPM International (RPM) set itself a list of goals that it wants to achieve by 2020. RPM has drawn a strategic plan to achieve the following goals:
to increase its revenue to $7 billion by 2020
to build more $1-billion global brands
to increase its cash dividend every year, as it has done for 42 consecutive years
Article continues below advertisement
What is RPM's strategy to achieve?
To achieve its vision, RPM International has the following strategies in place for 2020:
Acquisitions: RPM International is said to be the best home for entrepreneurial companies. RPM runs a strategic acquisition program that attracts successful entrepreneurs as part of their operating companies that are managed by their founders. This culture was initiated by Thomas C. Sulivan
New Product Development: Product innovation is one of the key factors for the organic growth of the company. A successful new product will have the potential for an in-depth market penetration leading to sales growth. In fiscal 2016, RPM International spent $61.5 million or 1.3% of its total sales on research and development.
The value of 168: RPM strongly believes in its philosophy of the "value of 168" set by the company's founder. The number "168" indicates the number of hours in the week. The message is that everyone has limited time and should use this wisely and productively.
Connections creating value: RPM's culture of collaboration within its operating companies, thereby increasing its manufacturing and distribution efficiencies. This collaboration has helped RPM to penetrate the market deeply
International Expansion: RPM will continue its international expansion Europe and growing economies like Latin America and China. To achieve expansion in these regions, RPM has adopted a strategy of acquisitions, joint ventures, and partnerships
In the past 30 years, RPM International has grown at a CAGR (compound annual growth rate) of 10.6%, but from 2010 to 2016, RPM's CAGR has fallen to 5.9%. To achieve the above goals, RPM International needs to be more aggressive.
Investors can indirectly hold RPM International by investing in the SPDR S&P Dividend ETF (SDY), which had 1.0% of its portfolio in RPM International on September 28, 2016. The top holdings of the ETF include 3M Company (MMM), Air Products and Chemicals (APD), and Praxair (PX), with weights of 1.05%, 1.05%, and 1.14%, respectively.