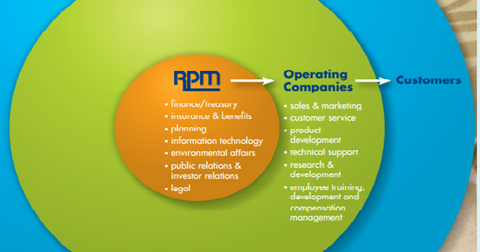 RPM International's Acquisitions: A Different Approach
By Peter Neil

Updated
RPM International's unique approach to acquisitions
As discussed in the previous part, RPM International (RPM) aims to acquire companies, and it has a unique way of managing its acquired companies, or operating companies. Thomas C. Sullivan initiated RPM's acquisition philosophy, which involves acquiring companies while allowing the founders and managers of those companies to continue to manage their businesses.
In this unique model, all administration tasks—finance and treasury, insurance, legal, and information technology—are centralized and handled at the corporate office. Meanwhile, operating companies focus on their customers and employees through sales, marketing, customer support, research and development, and employee training. Due to this strategy, RPM has become known as one of the best homes for entrepreneurial companies.
Article continues below advertisement
Acquisitions
The number of acquisitions that RPM has made in the past 30 years clearly suggests that acquisition is an integral part of RPM's overall growth. In the past three decades, RPM has acquired 150 companies, and 70 of them have come in the past decade. Below are few important acquisitions of RPM:
In 1994, RPM acquired Rust-Oleum, which generates above $1 billion in revenue.
RPM acquired TOR Coatings, which helped it expand in the European market.
In 1999, RPM acquired DAP, one of the premium brands in the DIY (do-it-yourself ) market.
In 2005, it acquired Illbruck Sealant.
In fiscal 2016, RPM's acquisitions grew by 6.7%, and its organic sales growth improved by 2.8%.
Investors can indirectly hold RPM International by investing in the Vanguard Dividend Appreciation ETF (VIG), which had 0.5% of its portfolio in RPM International on September 28, 2016. Notably, the top three holdings of the ETF include Johnson & Johnson (JNJ),  Microsoft (MSFT), and PepsiCo (PEP), which have weights of 4.1%, 4.07%, and ~3.8%, respectively.