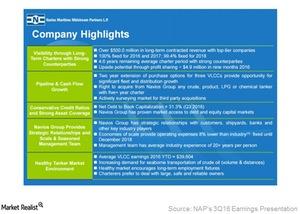 Recent Developments for Navios Maritime Midstream Partners
By Sue Goodridge

Dec. 4 2020, Updated 10:53 a.m. ET
Recent developments
In this part of the series, we'll see the recent developments for Navios Maritime Midstream Partners (NAP). The company is the first among its peers to report third-quarter earnings. Its peers include Teekay Tankers (TNK), Tsakos Energy Navigation (TNP), Nordic American Tankers (NAT), and Euronav (EURN).
Article continues below advertisement
Extension of fixed-fee period
In October, NAP amended its existing management agreement with Navios Tankers Management. It extended the fleet's fixed-fee period for commercial and technical management services until December 31, 2018, at the current rate of $9,500 per day per VLCC (very large crude carrier). 
Purchase option extended 
NAP has options to buy up to five VLCCs from Navios Maritime Acquisition. The company extended purchase options for an additional two-year period that will expire on November 18, 2018. The purchase price will be equal to the fair market value of the vessel at the time of acquisition. 
Article continues below advertisement
Long-term profit sharing 
NAP has entered into long-term charter out agreements for its vessels, with a remaining average term of 4.6 years. These contracts are expected to provide a stable revenue base and distributable cash flow. NAP has currently contracted 100.0% of its available days for 2016 and 2017 as well as 99.4% for 2018. 
Offering program 
In 3Q16, NAP entered into a Continuous Offering Program Sales Agreement with Goldman Capital. According to the agreement, NAP may issue and sell common units representing limited partner interests having an aggregate offer price up to $25.0 million. As of September 30, 2016, the company issued 277,103 common units and received net proceeds of $3.4 million. It also issued 5,655 general partnership units to its general partner in order to maintain its 2.0% general partner interest. Net proceeds from the issuance of the general partnership units were $0.1 million.
In the next part of this series, we'll see how NAP's revenue fared in 3Q16 and what the future holds for the company.