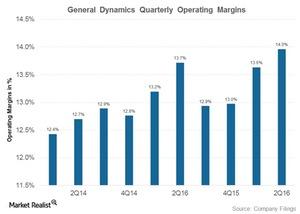 Higher G650 Mix Puts Margins of General Dynamics in Top Gear
By Shannon Black

Updated
The struggling business jet market
The business jet market continues to be soft on slowing GDP growth rates around the world. Because this situation also affects corporate profit growth, which has been poor so far in many sectors, business jet usage has slowed throughout the year.
Despite the challenging conditions, General Dynamics (GD) has managed to raise its margins in its Aerospace segment. Before we understand these aspects, let's see the competitive play in the business jet market.
The US market is dominated by light and mid-sized jets. Emerging market customers dominate the large jets. Business jets (XAR) are classified on the basis of their size into light jets, mid-sized jets, and large business jets.
Embraer (ERJ) and Textron's Cessna (TXT) are major manufacturers of light and mid-sized business jets. Bombardier has a larger share in mid-sized and large business jets. General Dynamics's (GD) Gulfstream aircraft are mostly large jets.
Article continues below advertisement
Higher mix of G650 leads to higher profits for General Dynamics
General Dynamics (GD) has managed to sustain margin expansion on the back of its sales mix, which leans more on the high-margin G650 jets. The Gulfstream G650, which is expected to generate 45% of the Aerospace segment's sales, is likely to generate 58% of the segment's profit.
Production cuts have been larger for the G450 and G550, which are likely to generate 22% and 6%, respectively, of the Aerospace segment's revenues this year. Although recent production cuts at Bombardier and Dassault have helped in correcting oversupply, the business jet market is far from being immune to competitive pressures.
Both Bombardier (BDRBF) and General Dynamics are launching a new business jet in the 2018–2020 timeframe. Bombardier's Global 7000 is expected to enter service in 2018. Similarly, the Gulfstream G500 and G600 are expected to be delivered first in 2018 and 2019, respectively. Therefore, competition is likely to remain elevated in the near- to medium-term future.