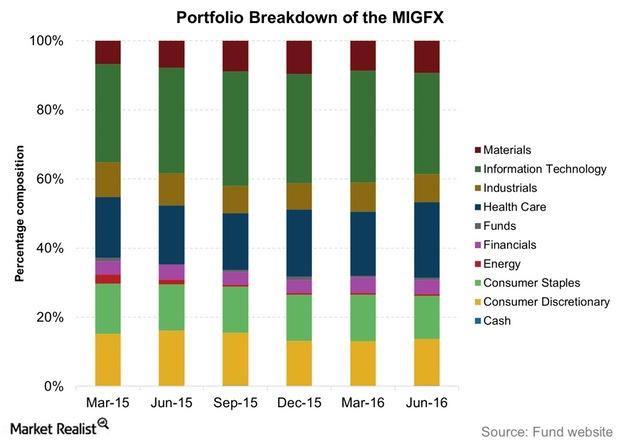 The YTD 2016 Sector Composition of MIGFX
By David Ashworth

Sep. 1 2016, Updated 8:05 a.m. ET
MFS Massachusetts Investors Growth Stock Fund overview
The MFS Massachusetts Investors Growth Stock Fund (MIGFX) invests at least 80% of its assets in common and preferred stocks, convertible securities, and depositary receipts. Although the fund can invest in companies across market caps, it focuses on large-cap companies.
Monsanto (MON), Texas Instruments (TXN), Ecolab (ECL), Mead Johnson Nutrition (MJN), and W.W. Grainger (GWW) were among the fund's 64 holdings at the end of July. In July 2016, the fund was managing $6.6 billion in assets.
Article continues below advertisement
Portfolio changes in the MFS Massachusetts Investors Growth Stock Fund
Information technology and healthcare are the two biggest sectors in the MFS Massachusetts Investors Growth Stock Fund (MIGFX). Combined, they form a little over half of the portfolio. Both consumer-focused sectors—discretionary and staples, in that order—follow the aforementioned sectors. No other sector forms over 10% of the assets. The fund is not invested in the telecom services and utilities sectors.
We've looked at the quarterly portfolios of MIGFX for the past three years until June 2016. Exposure to the consumer discretionary sector was initially increased until 2014, but it was subsequently reduced. Meanwhile, consumer staples stocks have seen their share decrease throughout this period.
Although the fund's exposure to the industrials sector has decreased noticeably, its exposure to healthcare and tech stocks has increased. However, the standout sector is materials. Although materials formed less than 2.5% of the portfolio three years ago, the sector now forms close to 10% of the fund's assets.
A notable aspect of the fund is its low portfolio turnover. This means that the fund manager has stuck with most of the stock picks, showing conviction in them.
How has the MFS Massachusetts Investors Growth Stock Fund – Class A's (MIGFX) portfolio positioning impacted its returns in YTD 2016? Let's look at that in the next article.