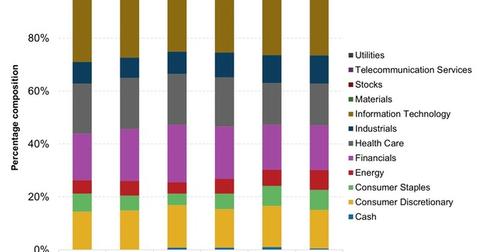 The YTD 2016 Sector Composition of the Fidelity Magellan Fund
By David Ashworth

Updated
The Fidelity Magellan Fund overview
The Fidelity Magellan Fund (FMAGX) invests primarily in common stocks of US and foreign issuers. It invests in growth stocks, value stocks, or both.
The fund manager utilizes the bottom-up investment approach, which involves performing a fundamental analysis of issuers by looking at factors such as the financial condition and the industry position. The manager also looks at macro factors such as market and economic conditions before selecting stocks for the portfolio.
General Electric (GE), Berkshire Hathaway (BRK.B), Coca-Cola (KO), Boston Scientific (BSX), and Bruker Corporation (BRKR) were among the Fidelity Magellan Fund's (FMAGX) 140 holdings at the end of June 2016. In July 2016, the fund was managing $15.3 billion in assets.
Article continues below advertisement
Portfolio changes in the Fidelity Magellan Fund
Information technology (XLK) is the biggest invested sector in the Fidelity Magellan Fund (FMAGX), forming a quarter of the fund's assets.
At a distance from tech, but close to one another in terms of portfolio weight, are the healthcare, financials, and consumer discretionary sectors, which form the core of FMAGX. Combined, they form 72.3% of the fund's assets. The fund is not invested in the utilities sector and has just reintroduced exposure to telecom services stocks.
Compared to the S&P 500 Index, FMAGX is overweight in the information technology, healthcare, and consumer discretionary sectors. Meanwhile, it is noticeably underweight in the consumer staples and materials sectors.
We've looked at the quarterly portfolios of FMAGX for the past three years through June 2016. Although exposure to consumer discretionary stocks has been broadly maintained over the last three years, the fund's exposure to consumer staples has been reduced somewhat.
Energy stocks saw their portfolio weight rise after 3Q15. Financials and materials are not in favor with the fund, although the industrials and information technology sectors are favored. Telecom services made a comeback in the portfolio after 4Q14.
With this portfolio positioning, how has the Fidelity Magellan Fund (FMAGX) fared in YTD 2016 and why? Let's look at that in the next article.