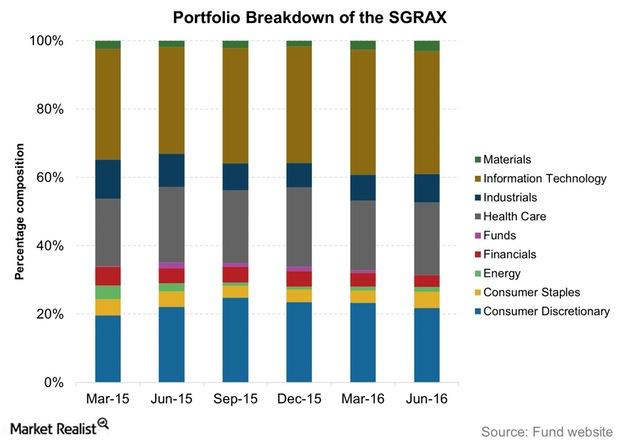 Sector Composition of the Wells Fargo Growth Fund until YTD 2016
By David Ashworth

Sep. 1 2016, Updated 8:05 a.m. ET
Wells Fargo Growth Fund overview
The Wells Fargo Growth Fund (SGRAX) invests at least 80% of its assets in equities. Up to 25% of the portfolio can be invested in foreign issuers' equities via depositary receipts and similar vehicles. The fund can invest across market caps and targets companies with prospects of robust, sustainable earnings and revenue growth.
The fund notes that its managers focus on those companies that "dominate their market, are establishing new markets or are undergoing dynamic change." Plus, bottom-up research lies at the core of the investment process to identify companies "with under-appreciated prospects for robust and sustainable growth in earnings and revenue." The fund is closed to new investors.
Microchip Technology (MCHP), MarketAxess Holdings (MKTX), Sprouts Farmers Market (SFM), Burlington Stores (BURL), and Proofpoint (PFPT) were among the fund's 92 holdings at the end of July. In July 2016, the fund was managing $6.9 billion in assets.
Article continues below advertisement
Portfolio changes in the Wells Fargo Growth Fund
Information technology leads the sectoral composition, with 37% of the assets invested in the sector. Healthcare and consumer discretionary are the other sectors that form the core of SGRAX. These three sectors combine to form 80% of the portfolio. Except these three, no other sector forms a tenth or more of the fund's assets. The fund is not invested in the telecom services and utilities sectors.
Compared to the Russell 3000 Growth Index, the fund is markedly overweight in the information technology and healthcare sectors. Meanwhile, it is sharply underweight in the consumer staples, industrials, and financials sectors.
We've looked at the quarterly portfolios of SGRAX for the past three years through June 2016. The consumer discretionary sector has regained lost territory from 2014. Meanwhile, energy stocks remain out of favor. Healthcare and information technology stocks have made their mark during this period, given the noticeable increase in their respective portfolio weights.
The case of industrials is interesting. Exposure to these stocks had been pumped up in mid-2014 and remained elevated until 1Q15. However, their weight has been reduced since then.
How has the Wells Fargo Growth Fund – Class A (SGRAX) fared in YTD 2016, and what has contributed to its performance? Let's look at that in the next article.