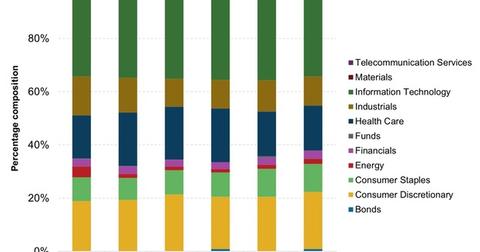 Sector Composition of the American Century Growth Fund in YTD 2016
By David Ashworth

Updated
American Century Growth Fund overview
The American Century Growth Fund (TWCGX) invests in companies that the managers believe will increase in value over time. Managers focus on large-cap companies and follow the bottom-up selection process.
The fund's literature states that its Growth team believes that excess returns can be attained by investing in those companies whose business fundamentals are improving. To identify these companies, fund managers employ analytical indicators such as accelerating earnings or revenue growth rates, increasing cash flows, and other indicators.
O'Reilly Automotive (ORLY), Lockheed Martin (LMT), Fiserv (FISV), Expedia (EXPE), and WABCO Holdings (WBC) were among the fund's 86 holdings at the end of June 2016. In July, the fund was managing assets worth $7.6 billion.
Article continues below advertisement
Portfolio changes in the American Century Growth Fund
Information technology is the highest invested sector in the American Century Growth Fund (TWCGX), forming 30% of the portfolio. Consumer discretionary and healthcare are the other sectors that form the core of TWCGX. Industrials and consumer staples are the only other two sectors that have 10% or more of the fund's assets invested in them.
The fund is not invested in the telecom services and utilities sectors. It had completely liquidated all holdings from the telecom services sector by 1Q16. Meanwhile, it was last invested in utilities in 2Q13.
We've looked at the quarterly portfolios of the TWCGX for the past three years through June 2016. Exposure to the consumer discretionary sector is higher than it was three years ago. Although the portfolio weight of the consumer staples sector dipped below 10% in 4Q15, it is 11% at present. Healthcare stocks form more of the portfolio than they did three years ago, but less than the 20% levels seen in 4Q15.
How has the American Century Growth Fund – Investor Class (TWCGX) fared in YTD 2016, and what has contributed to its performance? Let's look at that in the next article.