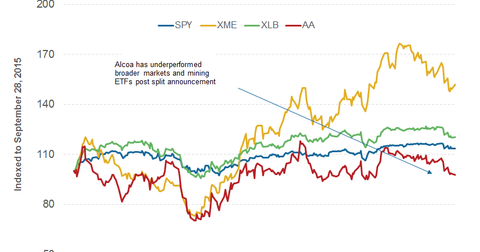 Do the Markets Really Want Alcoa to Split into 2 Companies?
By Mohit Oberoi, CFA

Updated
Alcoa's split
It's been almost a year since Alcoa (AA) announced its split. After the split, the value-added company—which will be named Arconic—will produce precision components and other value-added products. The new Alcoa will become a pure-play commodity producer.
After the split, Arconic investors might not be as interested in commodity prices. For Alcoa, commodity prices should become the key performance driver.
Article continues below advertisement
Shareholder value
The majority of observers expect that Alcoa's (AA) split would create shareholder value. However, there's a minority view in the market that Alcoa's split could destroy shareholder value. Prudent investing warrants looking at both sides of these issues.
If one looks at Alcoa's price action after its split announcement, observers with a bearish view of Alcoa's split seem to be winning the argument.
Series overview
Alcoa (AA) has underperformed the broader markets (SPY) as well as most of the companies in the metals and mining space (XME). Century Aluminum (CENX) and Norsk Hydro (NHYDY) have gained more than 28% since September 28, 2015, when Alcoa announced its split.
However, Alcoa is trading marginally lower than its September 28, 2015, closing price. Several companies in the aerospace component space (WWD) (CSTM) have also outperformed Alcoa over this period.
In this series, we'll explore the factors that are influencing Alcoa this year. We'll also explore the various opportunities and challenges that the split could impose on the company. This could help us understand whether the long-term benefits from the split outweigh the short-term challenges.
Let's begin by analyzing how Wall Street analysts are rating Alcoa.