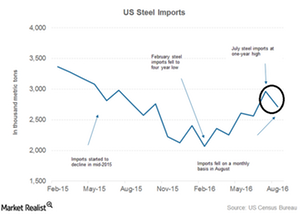 How Developments in the US Steel Industry Are Impacting Cliffs
By Anuradha Garg

Updated
Steel producers and Cliffs
The pricing of Cliffs Natural Resources' (CLF) contracts with ArcelorMittal (MT) and other customers depends on many variables, especially the price of US steel. Moreover, as Cliffs's customers benefit from the trade cases imposed on imports of steel products, so does Cliffs. So it's vital for Cliffs investors to check the pulse of the US steel industry.
Steel companies such as United States Steel (X), ArcelorMittal (MT), AK Steel (AKS), and Nucor (NUE) have increased their base selling prices several times. These increases came after falling imports provided US steel companies with pricing power in an otherwise commoditized industry.
Article continues below advertisement
US steel imports
However, the latest data on US steel imports show that the pace of the fall in steel imports has slowed down. According to preliminary data released by the United States Census Bureau, the United States imported 2.7 million metric tons of steel products in August. That's a YoY (year-over-year) fall of about 2.4%. There was a steep fall in steel imports earlier in 2016. On average, US steel imports fell 30% YoY between January and May. However, the rate of the decline has fallen sharply since then.
This scenario also led to a correction in US (DIA) steel prices. Due to high spreads between US and international prices, steel buyers in the United States have been actively scouting for new suppliers in international markets. While prices have come down from the 2016 peak, they're still high for the US market. These circumstances are quite favorable for Cliffs's realized prices as well as volumes.
In the next part, we'll see why Moody's decided to upgrade Cliffs's debt and ḥow it could impact the sentiment for Cliffs.