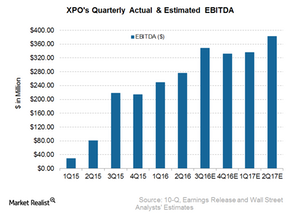 What Drove XPO Logistics' Earnings Higher in 2Q16?
By Samuel Prince

Updated
XPO's EBITDA in 2Q16
Previously, we went through XPO Logistics' (XPO) logistics segment. Now, we'll discuss the company's EBITDA (earnings before interest, tax, depreciation, and amortization) levels in 2Q16. XPO generated adjusted EBITDA of $276.0 million in 2Q16, compared with $81.0 million in the corresponding quarter last year. This translates to a rise of 365% in 2Q16, mainly fueled by acquisitions. XPO surpassed analysts' EBITDA estimate of $315.8 million by 12.4% in 2Q16.
Article continues below advertisement
On a sequential basis, EBITDA grew by 10.7%. The transportation segment's adjusted EBITDA grew by 365% on account of acquisitions and organic growth. The logistics segment's EBITDA rose from $35.8 million in 2Q15 to $106.9 million in 2Q16. This rise of 298.6% was attributed to acquisitions last year and better-than-expected European operations.
The company's operating income of $170.0 million in 2Q16, compared to a $30.1 million operating loss in 2Q15, contributed to the higher EBITDA. The company's 2Q16 adjusted EBITDA of $355.0 million were boosted by transaction and integration costs, in addition to higher rebranding expenses. A $107.3 million incremental depreciation and amortization boosted EBITDA in 2Q16. The North American LTL (less-than-truckload) business recorded a rise of 66% in operating profit in 2Q16 on a year-over-year basis.
Management's outlook
According to XPO, the 2Q16 and 3Q16 EBITDA represent 26% and 28% of its 2016 EBITDA, respectively. The company has reiterated its plan to achieve EBITDA of $1.265 billion in the current year. In addition, it has set an EBITDA target of $1.7 billion for 2018. The company also expects to attain cash flow of $150.0 million in 2016, up from the target of $100.0 million set earlier.
XPO anticipates free cash flow to substantially rise in 2017 and 2018. XPO stated that its profit improvement initiatives of more than $300.0 million are independent of macroeconomic conditions. The company foresees huge savings from procurement, real estate, technology, and shared services.
Peer group's EBITDA growth
As stated earlier, XPO was able to grow its EBITDA by 10.7% on a sequential basis. In the current trucking environment, margins are under pressure due to severe competition and pricing restrictions. XPO's peers ArcBest Corporation (ARCB), YRC Worldwide (YRCW), and Old Dominion Freight Line (ODFL) witnessed negative growth in EBITDA on a sequential basis in 2Q16. However, J.B. Hunt Transport (JBHT) and SAIA (SAIA) reported positive sequential EBITDA growth in 2Q16.
For diversified exposure to logistics companies, you can invest in the Guggenheim S&P 500 Equal Weight ETF (RSP). RSP includes prominent logistics companies such as United Parcel Service in its portfolio.