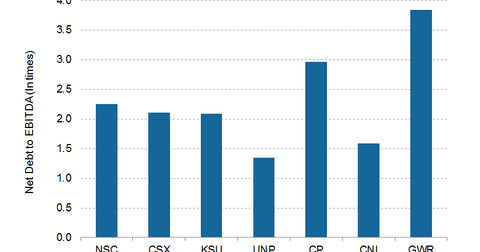 Understanding the Leverage of Major US Railroads
By Samuel Prince

Updated
Leverage ratios: the good and the bad 
Railroads need lots of capital to maintain their levels of services, and rail companies invest heavily in tracks, rolling stock, locomotives, and other rail assets. Due to the industry's capital-intensive nature, then, it becomes imperative for investors to look at the financial leverages of these companies.
Low debt levels reduce financial risk, but high leverage may not always be negative, just as low leverage isn't always positive. Outsider funding, in this way, is like a double-edged sword—it can cut both gains and losses. Railroads with a high degree of debt in turbulent times stand a high probability of bankruptcy, which can boomerang stock prices, resulting in increased volatility.
However, high debt levels can be a boon for railroads and the industry. Leverage has a fixed cash outlay. With a rise in revenue, profits go up by a higher percentage. In a nutshell, high debt levels raise the riskiness of a stock while magnifying its returns in a bull market.
Article continues below advertisement
Leverages of major US railroads
Net debt denotes total debt value minus cash and liquid assets. Net debt represents the amount payable by the companies to outsiders, whereas EBITDA (earnings before interest, tax, depreciation, and amortization) refers to earnings from core operations.
The net debt-to-EBITDA multiple tells investors the debt servicing ability of a company through EBITDA. (We have not considered BNSF Railway (BRK-B) since it's a Class I railroad privately owned by Berkshire Hathaway.)
By looking at the above graph, you'll notice that Genesee & Wyoming (GWR), the only non-Class I railroad in our group, has the highest net-debt-to-EBITDA ratio of 3.84x. This is mainly due to its additional debt for the Freightliner acquisition and to its cash balance dropping to just $24.9 million at the end of 2Q16.
By comparison, dominant Western US carrier Union Pacific (UNP) had a multiple of 1.34x in 2Q16—the lowest in the peer group. This is due to its high cash balance of $2.1 billion at the end of 2Q16, along with its improved EBITDA of ~$9.7 billion. The forward net debt-to-EBITDA multiple was range bound for eastern carriers like Norfolk Southern (NSC) and CSX Corporation (CSX) at 2.24x and 2.1x, respectively.
Canadian railways
Canadian National Railway (CNI) fared much better than arch-rival Canadian Pacific (CP), because CNI's net debt-to-EBITDA multiple of 1.58x is superior to CP's 2.96x. In the current falling volume environment, CP's higher multiple should concern investors.
Notably, the iShares Core S&P 500 ETF (IVV) is a growth ETF related to the S&P 500 Index. All US-originated Class I railroads are included in the portfolio holdings of IVV.
Keep reading to know more about the dividend payouts of these railroads.