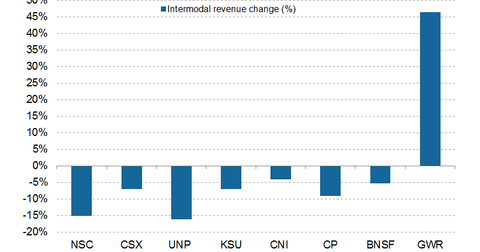 Behind the Class I Railroad Intermodal Revenues in 2Q16
By Samuel Prince

Updated
Railroad intermodal revenues in 2Q16
Once upon a time, US railroads' intermodal revenue growth was the talk of the town. But after crude oil prices faced steep declines, these rail companies' intermodal growth stumbled, benefiting trucking companies.
The intermodal segments of all US railroads compete with the trucking industry. In the graph below, you can see that Union Pacific (UNP) experienced the worst hit in its 2Q16 intermodal revenues, which fell by 16%, as compared to the 5.3% drop registered by archrival BNSF Railway (BRK-B). High retail inventories, weak domestic sales, and soft global economic activity led to the fall in UNP's intermodal revenues.
We should note, however, BNSF's intermodal business is included in its Consumer Products segment, which also contains its automotive freight business, and so the intermodal comparison between BNSF and UNP may not be exact.
Article continues below advertisement
By comparison, prominent Eastern US operator Norfolk Southern (NSC) saw its intermodal revenues fall by almost twice as much as CSX's (CSX) intermodal revenues. NSC recorded a dip of 15% in intermodal revenues, as compared to CSX's 7% decline in the same category. Remember, NSC restructured its underperforming subsidiary, Triple Crown Services, or TCS, in late 2015. The company concentrated TCS's focus solely on motor vehicles and parts. The other commodities hauled by TCS were included in NSC's other intermodal business.
Montreal-headquartered Canadian National Railway (CNI) saw its intermodal revenue decline by 4%, as compared to Canadian Pacific's (CP) 9% decline in the same category. The expansion of Deltaport Terminal and low volumes at the Port of Vancouver negatively impacted CNI's intermodal revenues. The smallest US Class I railroad, Kansas City Southern (KSU), recorded a fall of 7% in its 2Q16 intermodal revenues. Service interruption resulting from the flooding in the Southeast US coupled with higher conversions to trucks pulled down KSU's intermodal revenues.
GWR's intermodal revenues in 2Q16 rose phenomenally, mainly riding on the Freightliner acquisition. Freightliner's substantial contribution to European intermodal revenues boosted the company's overall intermodal revenues in the second quarter of 2016.
Why is intermodal down?
Intermodal is mainly losing out to truckers in the wake of low fuel prices. When fuel prices are low, it increases a truck's competitiveness in the medium to long haul lanes. The mobility of trucks for time-sensitive deliveries adds an advantage over rail intermodal.
Notably, the SPDR Global Dow ETF (DGT) is a global ETF related to the Global Dow Index. Major US airlines make up 2.1% of the portfolio holdings of DGT.
In the next part of this series, we'll go through the quarterly volume changes for our group of US Class I railroads.