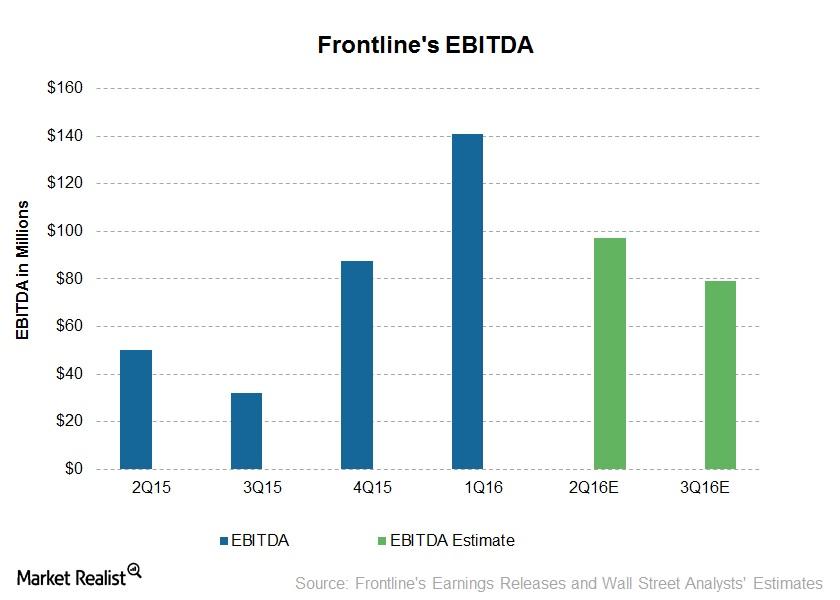 Where Do Analysts See Frontline's Earnings in Upcoming Quarters?
Article overview
As we saw in the previous part of this series, Wall Street analysts expect a 9% year-over-year rise in Frontline's (FRO) 2Q16 revenues. In this part of the series, we'll see what analysts are expecting for Frontline's EBITDA (earnings before interest, tax, depreciation, and amortization) and EPS (earnings per share) for 2Q16 and 2016.
Article continues below advertisement
EBITDA estimates
Along with a rise in revenues, analysts estimate a rise in EBITDA. Analysts' EBITDA estimate for 2Q16 is $97 million, a 94% increase from $50 million in 2Q15. For 3Q16, the EBITDA estimate stands at $79 million. Estimates for 2016 and 2017 are $416 million and $412 million, respectively, compared to the company's 2015 EBITDA of $233 million.
EBITDA margin
Based on its 1Q16 EBITDA, Frontline's EBITDA margin is 61%. Based on its estimated revenue and estimated EBITDA, Frontline's estimated 2Q16 EBITDA margin is 65%.
Article continues below advertisement
Peers' EBITDA
Many crude (DBO) tanker companies have already released their 2Q16 earnings.
Teekay Tankers' (TNK) 2Q16 EBITDA of $62.8 million came in higher than its 2Q15 EBITDA of $58 million. Also, Gener8 Maritime's (GNRT) EBITDA rose 70% year-over-year in 2Q16.
On the other hand, Nordic American Tankers' (NAT) 2Q16 EBITDA came in at $39 million—27% lower than its 2Q15 EBITDA of $54 million.
EPS estimate
Despite a rise in estimated revenue and EBITDA, Wall Street analysts forecast a 51% drop in Frontline's EPS to $0.27 in 2Q16, compared to $0.55 in 2Q15.