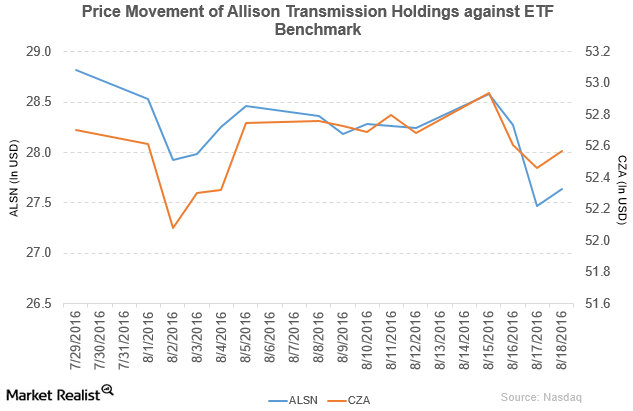 Allison Transmission: New Fuel and Greenhouse Gas Standards
Price movement
Allison Transmission Holdings (ALSN) has a market cap of $4.6 billion. It rose by 1.2% and closed at $27.64 per share on August 18, 2016. The stock's weekly, monthly, and YTD (year-to-date) price movements were -1.7%, -7.0%, and 8.6%, respectively, on the same day. Allison Transmission is trading 3.7% below its 20-day moving average, 2.8% below its 50-day moving average, and 4.3% above its 200-day moving average.
Article continues below advertisement
Related ETF and peers
The Guggenheim Mid-Cap Core ETF (CZA) invests 0.66% of its holdings in Allison Transmission. CZA tracks the Zacks Mid-Cap Core Index—a proprietary selected portfolio of 100 mid-cap stocks that seeks to outperform pure market-cap indexes. CZA's YTD price movement was 9.7% on August 18.
The market caps of Allison Transmission's peers are as follows:
Latest news on Allison Transmission
In a press release on August 18, 2016, Allison Transmission reported that "Allison Transmission (ALSN) today announced its support of new standards issued by the US Environmental Protection Agency (EPA) and the National Highway Traffic Safety Administration (NHTSA) regarding fuel efficiency and greenhouse gas (GHG) emissions for medium and heavy-duty vehicles."
It also noted that "The Phase 2 program is expected to lower carbon dioxide emissions by ~1.1 billion metric tons, save vehicle owners fuel costs of about $170 billion, and reduce oil consumption by up to 2 billion barrels over the lifetime of the vehicles sold under the program." It added that "Allison's newest products include FuelSense® and xFE technologies, and the TC10® transmission."
Article continues below advertisement
Performance in 2Q16
Allison Transmission reported 2Q16 net sales of $474.9 million—a fall of 7.1% from the net sales of $511.0 million in 2Q15. The company's gross profit margin rose by 3.2% and its operating income fell by 7.6% between 2Q15 and 2Q16.
Its net income and EPS (earnings per share) rose to $60.8 million and $0.36, respectively, in 2Q16—compared with $54.4 million and $0.30, respectively, in 2Q15. It reported adjusted EBITDA (earnings before interest, tax, depreciation, and amortization) of $173.3 million in 2Q16—a fall of 6.6% from fiscal 2Q15.
Allison Transmission's cash and cash equivalents and inventories rose by 44.8% and 6.4%, respectively, between 4Q15 and 2Q16. Its current ratio and debt-to-equity ratio rose to 2.2x and 2.8x, respectively, in 2Q16—compared to 2.0x and 2.7x, respectively, in 4Q15. It reported adjusted free cash flow of $156.7 million in 2Q16—a rise of 13.3% over fiscal 2Q15.
Article continues below advertisement
Quarterly dividend
Allison Transmission Holdings declared a quarterly cash dividend of $0.15 per share on its common stock. The dividend will be paid on September 2, 2016, to shareholders of record at the close of business on August 22, 2016.
Projections
The company made the following projections for fiscal 2016:
net sales to decrease by 9.5%–10.5%
adjusted EBITDA margin of 33.3%–34.0%
adjusted free cash flow of $415 million–$435 million
capital expenditures of $65 million–$75 million
cash income tax of $10 million–$15 million
In the next part of this series, we'll discuss Hormel Foods.