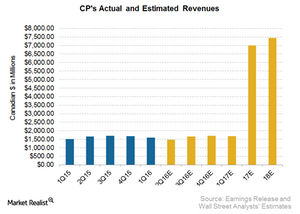 Why Analysts Expect Canadian Pacific's 2Q16 Revenues to Be Weak
By Samuel Prince

Updated
Canadian Pacific's 2Q16 revenues
Wall Street analysts are estimating revenues of 1.5 billion Canadian dollars for Canadian Pacific (CP) in the second quarter 2016. The company's revenues for 2Q15 were 1.7 billion Canadian dollars. This represents an anticipated fall of 10.9% on a year-over-year basis. For 2016 and 2017, analysts are expecting revenues of $6.4 billion and $6.7 billion Canadian dollars, respectively. This translates into a revenue change of -4.3% and 5.4% on a yearly basis, respectively.
Article continues below advertisement
Why have analysts lowered revenue estimates?  
Analysts have predicted a fall of ~11% in CP's 2Q16 revenues on a yearly basis, whereas the management anticipates a decline of 12%. Jason Seidl of Cowen and Company observed, "A weak freight market is driving carloads down, and ample truckload capacity and limited demand are keeping a tighter lid on pricing."
Even the current automotive rally may not last. The auto carloads of all the Class I railroads including CP have been in negative territory recently. Plus, if we see a sustained rally in crude, customer focus might shift away from the light vehicle industry.
With the slowdown in the global economy, CP's intermodal has been struggling. Cheap fuel has added to the intermodal worries of all the Class I railroads. The intermodal option may not be favorable for shippers wanting to haul merchandise less than 500 miles.
Lastly, a big blow to the company has come in the form of the strengthening Canadian dollar. From $1.45 Canadian dollars per US dollar in early 2016, the exchange rate is now $1.25 Canadian dollar per US dollar. The strengthening dollar has resulted in making the Canadian grain exports less lucrative. This raises the chances of higher grain inventory, which would take its toll on the freight rail traffic. This might hurt the business prospects of companies like Canadian National (CNI) and CP. Investors should note that unlike their US counterparts such as Union Pacific (UNP), Norfolk Southern (NSC), and CSX (CSX), these Canadian freight railroads' freight prospects rely more on agricultural produce.
Investors interested in transportation stocks can consider the Industrial Select Sector SPDR Fund (XLI). Railroads and airlines make up 8.5% and 12.3% of XLI's portfolio holdings, respectively.
In the coming part, we'll focus on Canadian Pacific's operating margins in 2Q16 and beyond.