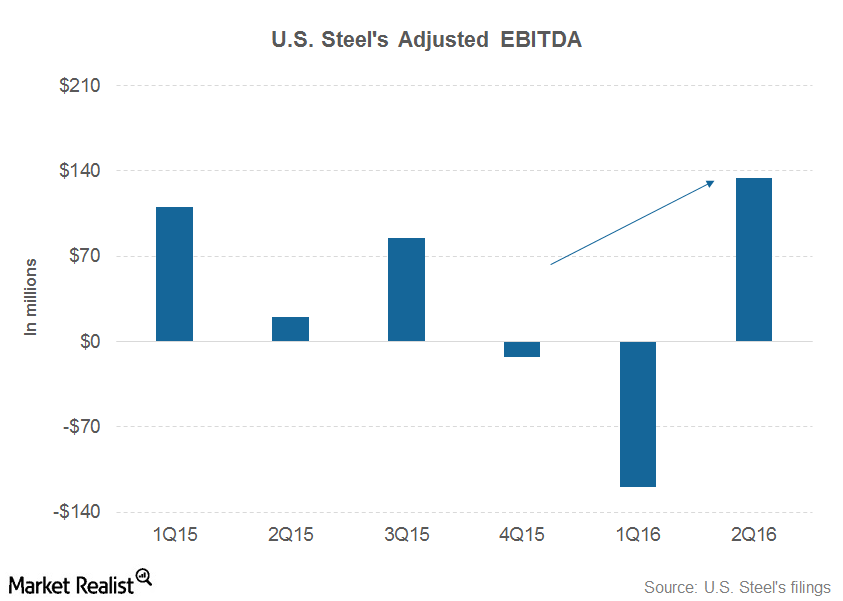 U.S. Steel's 2Q16 Earnings Surge on Higher Steel Prices
2Q16 EBITDA
On a consolidated basis, U.S. Steel's (X) average steel selling price was $603 per metric ton in 2Q16. To put this in context, the company's consolidated average steel selling prices was $582 per metric ton in 1Q16. Higher steel selling price had a significant impact on U.S. Steel's profitability as well. Let's see how.
Remember, there are several metrics that you can use to measure a company's profitability, but for companies in the commodities space (GNR), EBITDA (earnings before interest, tax, depreciation, and amortization) is generally used.
Article continues below advertisement
Rising EBITDA
U.S. Steel posted adjusted EBITDA of $134 million in 2Q16. Before this, U.S. Steel generated negative EBITDA for two consecutive quarters as can be seen in the graph above. Furthermore, U.S. Steel's 2Q16 EBITDA is the highest since 4Q14. Along with higher steel selling prices, U.S. Steel's cost-cutting initiatives under its Carnegie Way transformation helped the company increase its earnings.
Furthermore, U.S. Steel's Europe operations posted their best quarter since 3Q08. U.S. Steel's Europe plants operated at a utilization rate of 101%, which further boosted the segment's 2Q16 profitability.
Peer companies
Notably, other steel companies reported higher profits in 2Q16 as well. Nucor (NUE) reported adjusted net income of $233 million in 2Q16, which is the company's highest since 3Q14. AK Steel (AKS) generated adjusted EBITDA of $99.3 million in 2Q16. By comparison, the company posted EBITDA of $81 million in 1Q16 and $48 million in 2Q15. ArcelorMittal (MT) is also expected to report higher sequential EBITDA in 2Q16.
Meanwhile, with improved steel market conditions, U.S. Steel has raised its 2016 guidance. We'll discuss this further in the next part of the series.