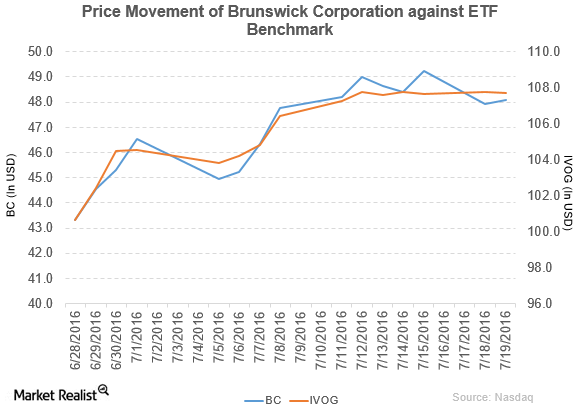 Brunswick Declared Quarterly Dividend of $0.15 Per Share
Price movement
Brunswick Corporation (BC) has a market cap of $4.4 billion. It rose by 0.38% to close at $48.10 per share on July 19, 2016. The stock's weekly, monthly, and year-to-date (or YTD) price movements were -1.9%, 3.1%, and -4.1%, respectively, on the same day.
BC is trading 3.0% above its 20-day moving average, 2.7% above its 50-day moving average, and 1.9% above its 200-day moving average.
Article continues below advertisement
Related ETFs and peers
The Vanguard S&P Mid-Cap 400 Growth ETF (IVOG) invests 0.60% of its holdings in Brunswick. The ETF tracks a market-cap-weighted index of growth companies culled from the S&P 400. The YTD price movement of IVOG was 8.8% on July 19.
The iShares Dow Jones US ETF (IYY) invests 0.02% of its holdings in Brunswick. The ETF tracks a broad, cap-weighted index of US companies covering 95% of the US market.
The market caps of Brunswick' competitors are as follows:
Brunswick declared dividend
Brunswick Corporation has declared a regular quarterly dividend of $0.15 per share on its common stock. The dividend will be paid on September 15, 2016, to shareholders of record on August 23, 2016.
Article continues below advertisement
Brunswick's performance in fiscal 1Q16
Brunswick (BC) reported fiscal 1Q16 net sales of $1.1 billion, a rise of 8.6% over the net sales of $985.7 million in fiscal 1Q15. Sales of its Marine Engine, Boat, and Fitness segments rose by 5.9%, 5.9%, and 17.6%, respectively, in fiscal 1Q16 as compared to fiscal 1Q15.
In fiscal 1Q16, the company's net income and EPS (earnings per share) rose to $64.8 million and $0.70, respectively, compared with $57.0 million and $0.60, respectively, in fiscal 1Q15.
Brunswick's cash and cash equivalents fell by 57.1%, and its inventories rose by 7.6% in fiscal 1Q16, as compared to fiscal 4Q15. In fiscal 1Q16, its current and debt-to-equity ratios fell to 1.8x and 1.4x, respectively, as compared with 2.0x and 1.5x in fiscal 4Q15.
Projections
Brunswick (BC) made the following projections for fiscal 2016:
revenue growth of 9%–11%, which includes the acquisition of Cybex
adjusted EPS in the range of $3.40–$3.50, as compared to the previous guidance of $3.35–$3.50
positive free cash flow of more than ~$200 million
Now we'll take a look at Mondelez International.