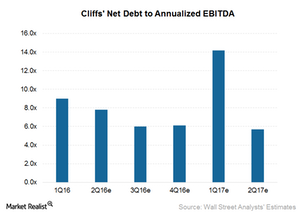 Are Analysts Expecting Cliffs's Net Debt to Improve?
Debt reduction
Cliffs Natural Resources (CLF) ended 1Q16 with a net debt of $2.4 billion, almost equal to its debt at the end of 4Q15. On May 24, 2016, Cliffs announced that it received a one-time $31 million payment from Minnesota Power as a part of an agreement to enter into a long-term power contract.
The company could use this cash to pay down debt. Investors should note that Cliffs's bonds were trading at a discount to their face value. The company has been taking advantage of this by buying its discounted bonds from the market.
The company also announced a plan to offer $300 million worth of shares. The company plans to use these proceeds for general corporate purposes like repaying debt, particularly its notes due in 2018.
Article continues below advertisement
High debt is the only major factor that's still weighing down Cliffs stock, so it's important to know what analysts are expecting in terms of the company's debt. Analysts estimate that Cliffs' net debt will fall by 8% by the end of 2016 as compared to 2015. Analysts forecast a further reduction of 8% and 10% for 2017 and 2018, respectively.
Net debt to forward EBITDA
Net debt to forward EBITDA (earnings before interest, tax, depreciation, and amortization) shows the number of years it would take a company to eliminate its net debt paid solely out of its EBITDA. At the end of 2015, Cliffs had a net-debt-to-forward EBITDA ratio of 9x, which is very high in a depressed commodity price environment. According to analyst estimates, this ratio is expected to improve significantly to 6.5x at the end of 2016 and 5.0x at the end of 2017. As we've seen previously, this is also due to improving EBITDA estimates.
Other companies with high financial leverage, including ArcelorMittal (MT), AK Steel (AKS), and U.S. Steel (X) could be under pressure in 2016. Investors looking to diversify the risk of investing in a single security can consider the SPDR S&P Global Natural Resources ETF (GNR). Almost 25% of GNR's holdings are invested in steel and other metals companies. Nucor (NUE) forms 1.7% of GNR's portfolio.