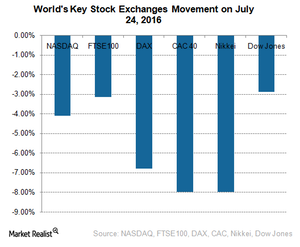 How Will Brexit Affect the Semiconductor Industry?
By Puja Tayal

Updated
Votes favor Brexit
The whole world has its eyes on the United Kingdom, as the country has voted to exit the EU (European Union) bloc of 27 countries. This move has been popularized by the media as "Brexit" (British exit).
This is the first time in history that a country is exiting the bloc, so there's much uncertainty surrounding the resulting economic, financial, and political scenarios.
Article continues below advertisement
Markets react to Brexit
The news of Brexit sent shockwaves through the stock markets worldwide. The US NASDAQ and Dow Jones, London's FTSE 100, Germany's DAX, France's CAC 40 index, and Japan's Nikkei all fell steeply on June 24, 2016. Moreover, the British pound fell by ~8.5% against the US dollar to a 30-year low of ~$1.37.
Uncertainty looms
The Brexit process will take at least two years to materialize, creating uncertainty about the economy post-Brexit, especially about the trade negotiations between Britain and the EU.
While it's difficult to state what impact Brexit will have on the EU and the world economy, many analysts have carved out the possibilities in different scenarios. So far, things look stable for the semiconductor industry until Brexit affects the EU economy and in turn consumer demand.
The majority of semiconductors are manufactured in Taiwan, South Korea, and Singapore, and the majority of semiconductors are consumed by China. The United States accounts for 50% of semiconductor sales worldwide, according to the International Trade Administration.
B. Riley analyst Craig Ellis explained that semiconductor stocks are significantly affected by the US economy, followed by China, then by Europe (VGK). Given the global reaches of semiconductor companies, they're unlikely to be hit hard by Brexit.
Foreign semiconductor companies with headquarters in Britain could look for offices in France or Germany, where trade relations with the EU are more stable.
In Europe, Germany is a key end market for automotive and industrial semiconductors. Companies such as NVIDIA (NVDA), Texas Instruments (TXN), and NXP Semiconductors (NXPI), for whom the automotive industry is a key growth driver, are unlikely to be affected significantly by Brexit, as they have offices worldwide.
On the other hand, UK-based ARM Holdings (ARMH) will likely benefit from the devaluation of the pound in the short term. In this series, we'll take a look at how Brexit will change the global trade scenario. We'll also explore its short- and long-term impacts on the semiconductor industry.