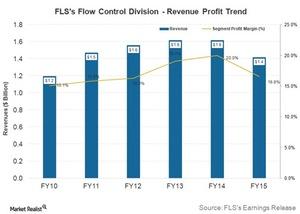 Understanding Flowserve's Flow Control Segment in 2015
By Jessica Stephans

Jun. 17 2016, Updated 11:04 a.m. ET
Flow Control
In 2015, Flowserve's (FLS) Flow Control division, or control segment, contributed ~30.4% to the company's total consolidated revenues and ~38.5% to its consolidated operating profit, with an operating margin of 16.6%.
Flow Control consists of valves, automation, and control products and solutions. FLS's management claims that they are the most comprehensive in the flow control industry.
The segment's major products include valve automation systems, control valves, gate valves, integrated valve controllers, and diagnostic software. FLS's management refers to its valves as "smart" because they can be accessed remotely with the help of technology, sensors, microprocessors, and software, which provide real-time analysis and warnings.
This segment's brands include Accord, Anchor, Argus, and Atomac Gestra.
Article continues below advertisement
Flowserve's flow control division backlog
Flow Control's order book stood at ~$1.3 billion in 2015. Its order book-to-bill ratio was at 0.93x, with an order book from servicing at 21%, while order backlog for equipment was 79%. In 2015, FLS's revenues declined on the back of decreased customer original equipment bookings and negative currency effects ($125 million). While the company's operating profits declined on the back of an unfavorable product mix and charges related to its realignment program.
 Other leading valve manufacturers
The valve market is highly fragmented and has undergone significant consolidation. The top ten global valve manufacturers collectively account for less than 25% of the total valve market, but FLS's management claims that they are the fourth-largest valve supplier in the world.
Some of the largest valve industry competitors include Pentair (PNR), Cameron International (CAM), Emerson Electric (EME), General Electric (GE), and Crane (CR).
Notably, on a year-over-year basis as of May 20, 2016, FLS and S&P 500 ETF Index (SPY) declined by 19.5% and 3.6%, respectively. On a year-to-date basis as of the same date, FLS has increased by ~10.7%, as compared to SPY's 2.5% gain during the same period.
In the next part, we'll check in with FLS' third segment: Industrial Products.