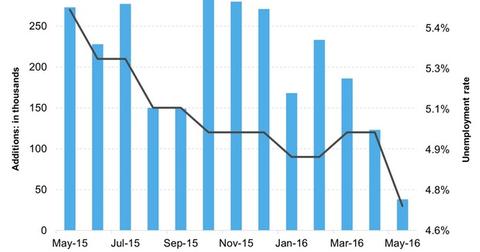 Why Are Non-Farm Payrolls Giving the FOMC a Headache?
By David Ashworth

Updated
Weak job additions have the FOMC worried
The US labor market has been strong for the most part. The mining sector was hurt the most since mining activity has declined substantially. This affected stocks such as Alcoa (AA), Nucor (NUE), and Steel Dynamics (STLD). Manufacturing wasn't in great shape, either. But other sectors were doing well.
However, the past three months have altered if not completely changed that. Even though the unemployment rate fell to 4.7% in May, the Markets didn't celebrate. The reason was the astonishingly low number of jobs—only 38,000—added in May. That's the first time since March 2015 that job additions have been five figures instead of six. Job additions in March and April have resulted in three consecutive months below 200,000 additions.
Article continues below advertisement
Is unemployment no longer the poster child?
The FOMC (Federal Open Market Committee) looks at three major economic indicators: economic growth, inflation, and unemployment. Unemployment and the job market almost never worried Fed policymakers, until now. In fact, policymakers have continually pointed out the reduction of slack in the labor market. People who were working part-time and wanted a full-time job were starting to get those jobs, and some people who had stopped looking for work were returning to the job market.
Although not much should be made of three months of data, it would be wise to remain cautious. Consumer spending depends on wage hikes and people continuing to remain at their jobs. The more jobs there are, the higher the possibility is that employees can negotiate higher salaries. If the job market softens, consumer spending (XRT) may decline.
That would be good news for mutual funds such as the Franklin Growth Fund – Class A (FKGRX) and the Vanguard PRIMECAP Fund – Investor Shares (VPMCX), since they don't have a big chunk of their assets invested in stocks from the sector. It wouldn't be good news in general for the economy and could force the FOMC to delay rate hikes further.
The Fed released a summary of economic projections after its March 2016 meeting. Let's look at that in the next part.