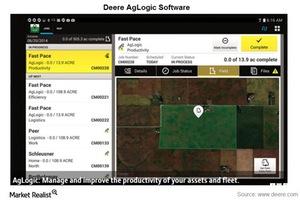 What Trends Are Driving Deere & Company's Industry?
By Shannon Black

May. 24 2016, Updated 4:05 p.m. ET
Fewer tax breaks
Between 2010 and 2014, under section 179 of the Farmer's Tax Guide, farmers could deduct $500,000 in one-time depreciation expenses for equipment purchases of up to $2 million. This gave an incredible stimulus to the farm economy, and farmers bought record amounts of equipment during the period.
Farmers could either pay additional taxes to the US government or buy additional equipment to claim deductions under section 179. Most chose the latter. After the government rolled back these tax breaks, depreciation expenses have been limited to $25,000 per year since 2015. Needless to say, farmers aren't buying equipment to save on taxes anymore.
Article continues below advertisement
Technology's rising role
A growing number of agribusinesses (DBA), including Deere & Company (DE) and AGCO (AGCO), are now offering technology-based solutions to drive the next generation of productivity gains in the farming community. Companies face threats not only from startups in Silicon Valley, but also from do-it-yourself, tech-savvy farmers who are using the benefits of low-cost hardware and open-source software to build their own solutions.
Some of these farmers are tinkering with equipment in such groundbreaking ways that their tractors can now run driverless. In times when farm incomes are sinking to record lows and farmers are finding it extremely difficult to draw productive workers to their farms despite higher offered wages, such initiatives save significant amounts of money.
Emission standards
The latest federal emission control standards for diesel-powered farm equipment and construction (XHB) equipment have pushed prices of equipment up by 15%–20%. Companies such as Deere and Caterpillar (CAT) are justifying the hike, citing costs related to the usage of sophisticated filters and other tweaks to comply with norms. Customers are therefore more inclined to lease equipment instead of buying it.